TechWadi – AUC School of Business Mentorship Roundtable and Panel
On October 26, the AUC School of Business held its Mentorship Roundtable and Panel event which marked the launch of the School's Entrepreneurship and Innovation Program (EIP), in addition to the launch of the Techwadi 100 mentorship program. The day started with a roundtable for thirty two pre-selected young entrepreneurs, meeting mentors from TechWadi 100 in the Silicon Valley and the region to discuss challenges and opportunities. Entrepreneurs also had the chance to present and discuss their ideas to groups of advisors in closed sessions, addressing business plans, tackling entrenched challenges and discovering avenues for collaboration and expansion. The day concluded with a leadership panel titled "The Promise of Entrepreneurship for Egypt", which was open to AUC students, alumni and business executives. The panel discussed the promise of entrepreneurship in Egypt and the role local leaders can and must play to ensure a vibrant and thriving ecosystem. The aim was to build bridges, provide mentorship opportunities to the country's aspiring entrepreneurs and promote entrepreneurship in Egypt. [Read more]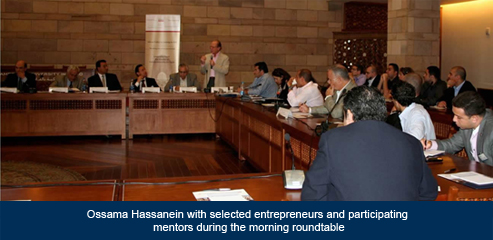 Princess Máxima of the Netherlands Calls for an Inclusive Financial Model for Development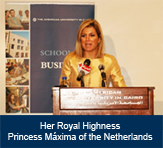 Speaking at AUC in a lecture co-sponsored by the School of Business, the United Nations and the Embassy of the Kingdom of the Netherlands, Her Royal Highness Princess Máxima of the Netherlands discussed ways to improve financial services for those most disenfranchised by the current financial system. "There is a myth that poor people cannot save," she said. "This is a myth we must dispel." [Read more]


Sir Howard Davies Discusses Regulatory Lessons Learned from Global Financial Crisis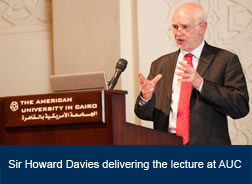 Marking the inauguration of the Egyptian Institute for Financial Services, Sir Howard Davies, director of the London School of Economics and Political Science, combined penetrating insight with refreshing frankness in his lecture on global financial regulation titled "Regulating the Financial Markets: Lessons, Challenges and Prospects for the Aftermath of the World Crisis." Focusing on what he called "the half-empty part of the [regulatory] glass," he identified four central challenges for the post-crisis financial world, proposing new regulatory schemes for the future. [Read more] or [Watch on YouTube]

Global Entrepreneurship Week 2010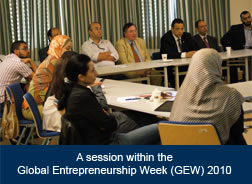 Faculty and students were offered invaluable opportunities to engage with colleagues both inside of AUC and from other universities during this year's Global Entrepreneurship Week (GEW).
GEW 2010 at the AUC School of Business started with a panel of AUC alumni discussing their entrepreneurial experiences, and how they learned from their failures as well as their successes. The overall theme of the event stressed engagement and participation even before entering the labor market full time. Students were encouraged to look at setbacks not as failures, but rather as learning opportunities.[Read more]

School of Business Receives Highest Distinction Award in Egypt, Second in Africa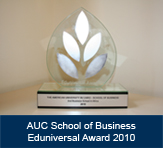 Eduniversal, the first ranking system offering a truly universal perspective on higher education, has awarded AUC's School of Business the highest distinction in Egypt and the second in Africa at the third annual Eduniversal World Convention Business School Awards held in Prague, Czech Republic. The selection was based on the results of an Eduniversal survey of more than 1,000 business schools worldwide on their international influence capability. University of Cape Town's Graduate School of Business and the University of Stellenbosch Business School, South Africa were awarded first and third place respectively. [Read more]

AUC School of Business Partners in Launching Wamda.com

The school partnered with the region's largest and most prestigious business and entrepreneurship organizations to launch Wamda.com (meaning spark or flash of light), a platform that aims to foster entrepreneurship in Middle East North Africa (MENA) region The launch of Wamda took place during an event that celebrated entrepreneurship, which was held in Madinat Jumeirah Conference Center, Dubai, on November 7-9, 2010. [Read more]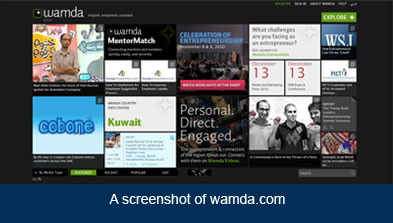 School of Business Hosts Students in Free Enterprise Egypt Leadership Training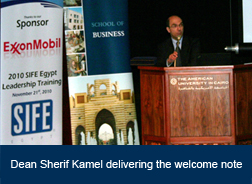 To prepare students to become future leaders, AUC's School of Business hosted Students in Free Enterprise Egypt (SIFE) leadership training program and brought together 700 students from 28 different universities across Egypt. The day-long training session included workshops on career networking, professional development and student leadership. The event, organized as part of the Entrepreneurship and Innovation Program of the School of Business, focused on helping students acquire time management and organizational skills required in a highly competitive entrepreneurial marketplace. [Read more]

Student Exchange Agreement with Nova School of Business and Economics

The American University in Cairo and the Nova Southeastern University School of Business and Economics recently signed a student exchange agreement, which will allow for the exchange of students at the undergraduate and graduate levels on a reciprocal basis.

School of Business Launches Kamel's Corner Blog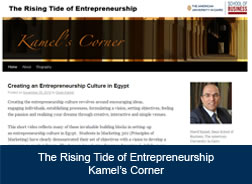 Sherif Kamel, dean of the School of Business, recently launched his blog entitled Kamel's Corner as an interactive virtual meeting point and a communication channel for all school stakeholders including students, alumni, faculty and staff members as well as friends. In addition to serving as a platform to explore ideas and suggestions, as well as discussing issues related to the school, business education, student life and program offerings, the intent of the blog is to reach to online communities and expand the school's online presence. [Read more]

Dean Kamel Holds the First Dean's Chat Event

On October 20, 2010, the School of Business held the inaugural session of the Dean's Chat event, in which Dean Sherif Kamel met with students from the School of Business. Dean Kamel's new initiative, Dean's Chat, is one that mainly targets School of Business students, and also all other constituencies to update the school community on the developments taking place at the AUC School of Business. "The Dean's Chat is intended to be a chance to explore ideas and share future plans and activities with the School Stakeholders" Dean Kamel said. [Read more]

Master of Business Administration Debate

The MBA Debate is an open forum to advance MBA student experience through linking their academic experience with the real world. This is done through the introduction of a debate among high caliber speakers who discuss a special topic from different angles. [watch the first MBA debate on YouTube] [watch the second MBA debate on Youtube]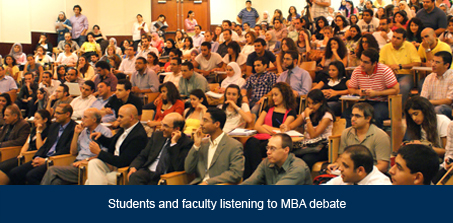 Management Center and University of London Form Partnership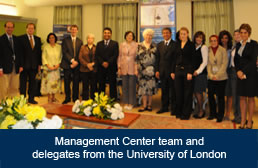 To provide students with a wide variety of internationally accredited educational programs, the Management Center of the School of Business has launched a collaborative agreement with the University of London, effective Spring 2011. Through the partnership, the Management Center will offer three professional diplomas in international management, management of information system and banking. The programs will address international perspectives relevant to management and will be delivered through the center. [Read more]

The Citadel Capital Financial Services Center Signs International Partnership to Foster Real-Life Financial Practice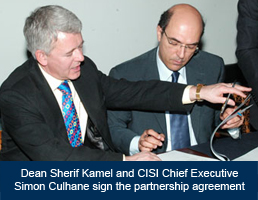 The Citadel Capital Financial Services Center of the School of Business signed a partnership agreement with the London Chartered Institute for Securities & Investment (CISI). Through this partnership, AUC students have the opportunity to participate in widely-recognized training programs, sit for CISI qualifying exams and become accredited professionals by a leading training institute in the field of investment. Working in collaboration with world-class financial training centers, CISI aims at promoting financial knowledge, paving the way for those starting their careers in the financial services industry and enables AUC students aspiring to pursue a career in finance to compete in the rapidly changing financial markets. [Read more]

El-Khazindar Business Research and Case Center Organizes First Case Solving Competition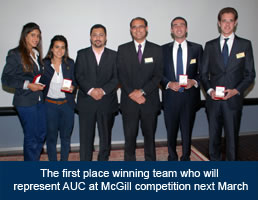 El-Khazindar Business Research and Case Center (KCC), in collaboration with McKinsey&Co Dubai, organized a Case Solving Competition among AUC Business and Economics students on November 27, 2010. A judging panel of six experts, including two McKinsey consultants, one local consultant and three AUC professors, evaluated team presentations. The winning team, consisting of four students from the AUC School of Business, has qualified to compete at the McGill International Case Solving Competition in March 2011 against 11 teams from prominent international universities. McKinsey&Co will be coaching the winning team before the competition. [Read more]

Management Center Partners with World Scout Bureau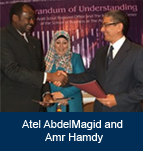 AUC's Management Center and the World Organization of the Scouts Movement's Arab Regional Office recently signed a partnership agreement promoting future collaboration in offering and delivering professional development programs and joint marketing activities, which aim to build academic and operational capacity-building programs. The first program will be conducted in February 2011 and will focus on strategic marketing. [Read more]

Opportunities for Women Entrepreneurs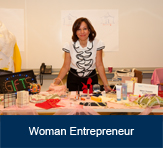 A panel titled "Opportunities for Women Entrepreneurs", which was hosted by the Goldman Sachs 10,000 Women Entrepreneurship and Leadership Program (WEL), drew more than 50 women from Greater Cairo to hear stories and advice from prominent Egyptian female entrepreneurs. The panel was made up of Raghda El Ebrashi, founder and chair of Alashenak Ya Balady non-governmental organization, Maha Mahgoub, president of the Career Development Organization, Rania Badr El Din, managing director of Mother and Child, Naveen Shaker, deputy manager of the Social Fund for Development and Nadine El Shinnawy, center director of the Women's Business Development Center. [Read more]

El-Khazindar Business Research and Case Center's First National Case Writing Competition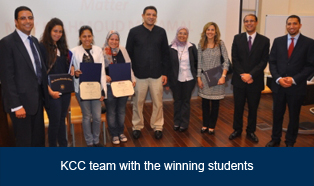 On November 10, 2010, the first National Case Writing Competition was organized by El-Khazindar Business Research and Case Center (KCC). Participants included AUC School of Business undergraduate students as well as students from other universities. This years' competition was held with an entrepreneurship theme. Winning cases were awarded LE 3,000, LE 2,000, and LE 1,000 for first, second and third places. KCC is planning to publish the qualified cases. With the success of the event, the center aims to host this competition every semester on the national level, with future plans to conduct it regionally.

The Inauguration of the Corporate Governance Club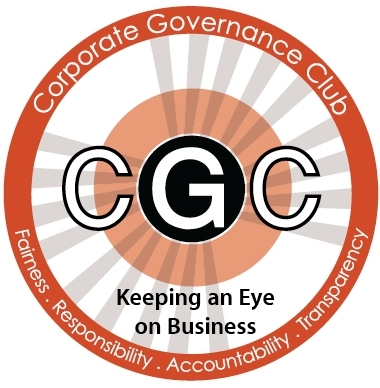 The inauguration of the Corporate Governance Club (CGC) was held at the Moataz Al Alfi Hall on October 10, 2010. The CGC is the first Egyptian student-based academic club that is dedicated to the dissemination of corporate governance principles and best practices among students. It aims at encouraging interdisciplinary dialogue among students of business, management, finance, economics and accounting who share a common interest in working in a fair and transparent corporate environment. As part of CGC's continuous efforts to spread corporate governance awareness among undergraduate students, the CGC held its first corporate governance competition during the period October 21 -23, 2010. [Read more]

Entrepreneurs' Society Soft Opening Ceremony: Celebrating Entrepreneurship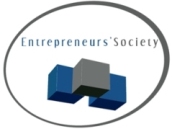 On November 23, 2010, a group of more than 100 students held the Entrepreneurs' Society (ES) Soft Opening Ceremony bringing together 700 attendees including, students, delegates, faculty members and executives who celebrated their efforts during the last seven months. The ceremony included speeches from Dean Sherif Kamel and Mohamed El Dib, chief executive officer of the Entrepreneurs' Society. In addition, ES members invited some keynote speakers to a Q&A session, the list of guests included Tamer El Leithy, owner of Mori Sushi, Bassem Mashhour , partner of The Bakery Shop (TBS), Karma Sabet, founder of Karma Jewelry and KDS as well as Hoda Rashad, founder of the development website www.irmihelbahr.org. Visit the Entrepreneurs' Society official homepage at www.entrepreneurshipegypt.org

The Ninth Annual Accounting Link Simulation for Fall 2010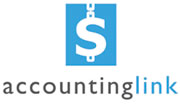 AUC President Lisa Anderson stressed the necessity of developing human capital and helping in guiding Egypt as a global leader of business at the opening of the ninth annual Accounting Link simulation. The event, which brought together accounting students from Ain Shams University, AUC, British University in Egypt, Cairo University and German University in Cairo, introduced the simulation, which was being led by Ernst & Young for the third consecutive year. Additionally, it set the stage for "an environment with a high level of diversity in culture and academic background," as stated by faculty advisor Khaled Samaha, assistant professor of accounting. [Read more]

Fall 2010 Information Technology Forums

The Department of Management initiated the Information Technology Forum in 2004 through its management of information systems unit. The IT Forum is an opportunity for the students unit to interact with market leaders in the information and communication technology field through seminars, lectures and debates. During this Fall 2010, there were four IT forums by very prominent speakers including, Ashraf Labib, associate dean (research), Portsmouth Business School (PBS), University of Portsmouth, United Kingdom, who discussed "Learning from Failures: Decision Analysis in Asset Management". [Read more]

School of Business Holds Undergraduate Honors Assembly

On December 12, members of the AUC community gathered for the School of Business Undergraduate Honors Assembly. Held in honor of AUC's top graduates in accounting, finance, marketing, management of information systems and economics, the event was attended by faculty members, parents and students who gathered at the Bassily auditorium to cheer on the honorees. In the midst of celebration, students had an opportunity to reflect more seriously on the journey that brought them to this juncture. However, the Undergraduate Honors Assembly was not just about the school and its current graduates as the School of Business presented a number of awards to dedicated faculty and staff members as well as alumni. The Excellence in Management Award went to Amr Hamdy, director of the Management Center, while the Staff Excellence Award went to MBA program executive Rabab Abuel Fetouh. Professor Shawki Farag and Moustapha Sarhank '87 received the distinguished faculty and alumni awards. [Read more]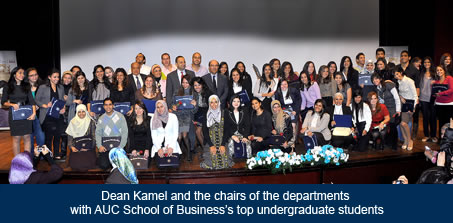 Yale Welcomes Visiting Scholar from AUC School of Business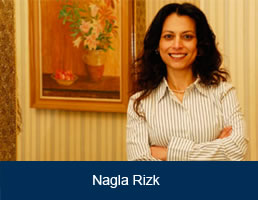 Nagla Rizk, associate dean graduate studies and research, School of Business, director of the Access to Knowledge for Development Center (A2K4D) and associate professor of economics, recently returned from Yale Law School in New Haven, Connecticut, where she taught a course on knowledge, technology and development as part of ongoing collaboration between A2K4D and Yale's Information Society Project. The partnership, which began in 2006, seeks to generate research on knowledge access, openness and intellectual property (IP). [Read more]

Tooma Unveils Profit-Making Strategy for Stock Brokers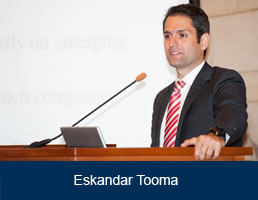 In the final Provost's Lecture of the Fall 2010 semester, Eskandar Tooma, associate professor of finance and director of the Citadel Capital Financial Services Center described the conclusions of his research undertaken over the past two years. The lecture, which was titled "Make More Money, Take No Risk: Arbitrage Operations in Internationally Cross-Listed Stocks," explained Tooma's research in layman's terms, teaching attendees about a strategy which Tooma believes could have made investors earn more than $1 million in the past two years. [Read more] or [Watch on YouTube]

Tolba at the Abraaj Capital Celebration of Entrepreneurship Conference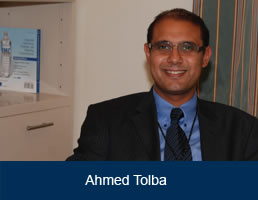 Ahmed Tolba, assistant professor of marketing and director of El-Khazindar Business Research and Case Center (KCC) presented a Passion Corner entitled "How to Grow Entrepreneurial Culture in the MENA Region?" at the Abraaj Capital Celebration of Entrepreneurship (CoE) Conference in Dubai on November 7-9, 2010. Further, KCC and Aramex announced in a Media Corner that they have partnered to develop twelve mini cases on successful entrepreneurs in the region which will be published at Wamda and El-Khazindar Business Research and Case Center (KCC) by May 2011.