School of Business Highlights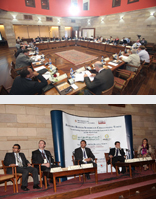 School of Business Leads International Forum for Proactive Change
Sherif Kamel, Dean of AUC School of Business hosted in October a series of events titled "Responsible Business Schools in Challenging Times: Towards Creating a Sustainable Entrepreneurial Ecosystem in Africa and the Middle East". The event comes during a time of regional political, social and economic flux, haunting famine in the horn of Africa as well as lingering economic setbacks in the United States and Europe. All of these events dictate that schools of business play a more active role within their communities to become 'agents of change' rather than 'objects of change'.