October 2-3, 2011
The 1st PRME MENA Regional Forum "Entrepreneurship – Sustainability – Transparency: Promoting Responsible Management in a Changing Region"
October 4, 2011
Business Schools Round Table: Food Crisis Challenges and Opportunities for Supply Chain Excellence in Africa
January 3, 2012
Cairo-SAET Workshop in Economic Theory
Dean's Message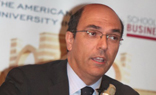 The spring semester of 2011 was one of the most significant semesters in the school's history, and as we look back on the school's contribution to Egypt's remarkable uprising, and the following months of political debates, we feel pleased with what we have accomplished and strive for more. Read more...
School of Business Highlights
The School of Business Seminar Series: Transforming Egypt

Inspired by the Egyptian revolution and in an effort to contribute to the promising changes taking place, the School of Business launched its new workshop series "Transforming Egypt" last March. The series offered a platform for debate and discussion by distinguished guests, faculty members and students who addressed Egypt's transitional period.
The Transforming Egypt Workshop Series included:
The School of Business Hosts Entrepreneurs Startup Weekend

The AUC School of business, N2V, startupweekend.org and many dedicated volunteers delivered Egypt's inaugural Cairo Startup Weekend.  Participation figures were as follows: 250+ participants, 30+ volunteers, 20+ mentors, six judges, 58 pitches, 32 teams, six prizes from N2V including the grand prize, 2 prizes each from Nokia and Orange, and around 700 viewers on live-streaming. However, numbers don't tell the whole story.
New Master of Science in Finance Program Offered by the School of Business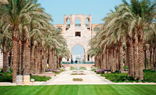 The School of Business recently introduced the Master of Science in Finance program, which is the first program of its kind in the region. This program caters to working professionals and it is intended to attract sophisticated, collegial participants.
Stiglitz Discusses Lessons from the Global Economic Crisis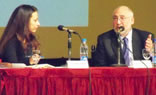 Nobel laureate Joseph Stiglitz gave a lecture on "Creating a Learning Society: An Agenda for Dynamic Societies in Uncertain Times." Stiglitz noted that the global economic crisis was due to not only the lack of regulation, but also to an unwillingness to learn from mistakes made in the past by permanently rejecting the notion that markets are not always self-corrective or efficient.
More School of Business Headlines
Student Life
Master of Business Administration Programs
Executive Education and Research Centers
Entrepreneurship and Innovation Program (EIP)