With the job market in Egypt booming, AUC students and graduates are in great demand by national and multinational corporations regionally and internationally. In particular, the fields of computer science, engineering, management consulting and investment are growing in the region, with Egypt being no exception. According to the Commercial Intelligence Service, Egypt has become home to at least 900 international companies spanning 37 industries, mostly due to a flourishing economy and smart investments.

AUC students have been an integral part of this growth, demonstrated by the annual employment fairs held by the university. This fall, 136 companies came to recruit AUC seniors, a number that increased from 104 last year. "AUC prepares students to work globally and grants them exposure to multicultural environments, allowing them to adapt anywhere," said Maha Guindi, executive director of Career Advising and Placement Services, explaining the fair's success.

Many of the corporations that have participated in AUC's employment fairs and on-campus recruiting visits return annually to hire students for both entry-level and senior positions. Among these companies are General Electric, Booz Allen Hamilton and Microsoft.

Over the years, Microsoft has kept close ties with the university. In addition to recruiting fresh graduates, the company has hosted AUC students as interns at Microsoft Egypt, the Cairo Microsoft Innovation Center and the corporate headquarters in Redmond, Washington. It also holds local and regional software competitions, where AUC teams have performed exceptionally well over the years. In all these avenues, AUC students and alumni have proven their ability to adapt to challenging work environments, utilizing their creativity and problem-solving skills that they learned in the classroom.

"The university does a wonderful job of preparing its students to be successful once they graduate," said Anne Cheng, international staffing consultant for Microsoft in Redmond who has recruited a great number of AUC students for internships and permanent jobs. "They are bright and passionate about developing software that changes how people work, live and play."

Cheng added that because AUC students have been educated outside the United States and bring with them aspects of both Middle Eastern and Western cultures, having them join Microsoft makes the place more diverse, which enhances the quality of the company's product range. "It is critical that we have broad and diverse teams where people of all backgrounds are impacting our products," she said.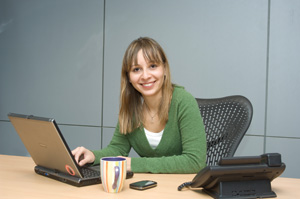 For many of the alumni who work at Microsoft, their jobs open up continuous learning opportunities. Dina Radwan '02, customer and partner experience lead at Microsoft Egypt, feels she has developed considerably on a professional level. "Through my work, I have learned how to interact with customers tactfully, how to implement creative marketing and how to be professional," she noted. "The key is to be creative, and that's something I definitely learned from AUC."

Besides creativity, success lies in the ability to learn and adapt to changing work environments. "I believe the best thing I was taught at AUC is how to learn," said Ayman Shoukry '99, who has been working at Microsoft in Redmond for the past eight years as a lead program manager with the Visual C++ team. "Being able to seek information, be proactive and flexible, and learn how to apply new things everyday makes a big difference."

Staying ahead of this rapidly evolving field, AUC's School of Sciences and Engineering introduced a new degree in computer engineering that incorporates the skills and knowledge needed to lead today's tech industry, a field subject to dynamic and changing trends. AUC's program strives to help define these trends, ensuring that its graduates are prepared for an industry that requires knowledge of computers and the ability to combine and network multiple media.

As proof of its success, AUC's computer science and engineering department was recently granted renewed accreditation by ABET Inc., one of the leading accreditation organizations worldwide, for its Bachelor of Science in computer science. The department also receives positive feedback from employers. "We've received a letter from Microsoft saying they rate our students as some of the best worldwide," said Mikhail Naguib Mikhail, chair of the department.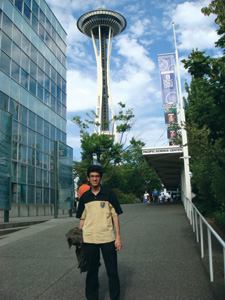 In addition to securing jobs with Microsoft, AUC students have maintained links with the company through internships. Computer science seniors Karim Henien and Mina Mikhail both earned the only two spots open for interns from Egypt to work at the Microsoft headquarters. Spending the summer in Redmond developing applications for the new Windows 7, Mikhail said he grew professionally. "I learned fast and have really improved in the operating systems branch," he said.

In addition to internships, AUC students have been successful in computer science competitions to develop software and technological devices. After winning first place in the local round of the Imagine Cup competition, a worldwide contest for software development, Ahmad Fathallah '05 and Tarek El Gaaly '05 were among the few teams selected to present their software to Microsoft mogul Bill Gates in Redmond. The students' software, Educare, is designed to assist teachers in preparing lessons tailored for students with learning disabilities. "I completely agree with your vision; great work," Gates told the team after they presented their project.

Similarly, in the recent competition held by the Cairo Microsoft Innovation Center (CMIC), AUC students Mona Mahfouz, Tarek Hefni, Khaled Hafez and Soha Hassan won first place and were awarded an internship at CMIC in the Smart Village to develop their proposal for a new software application. The team's software, BSpark, enables mobile phone images to be automatically posted for members of the same network to view on their phones immediately, eliminating the process of uploading the image to a computer, fixing its dimensions and then putting it online.

Ahmad El-Shimi, lead program manager at CMIC, lauded the team's effort. "They showed initiative in their proposal, thought hard and critiqued it," he said, adding, "AUC students are more well-rounded right out of college. They tend to be current in recent technology; are very polished in their soft skills such as teamwork; and have analytical, problem-solving and critical-thinking skills. … They have excellent prospects and are very high on the list."

By Leen Jaber