AUC Alumnus Ziad Bahaa-Eldin Joins Board of Trustees
Ziad Ahmed Bahaa-Eldin '87 was recently elected as a member of AUC's Board of Trustees. Bahaa-Eldin serves as chairman of the Upper Egypt Investment Company, as well as legal adviser and board member of the Central Bank of Egypt, the National Bank of Egypt and the Capital Market Authority.
B. Boyd Hight, chairman of the board, noted that "in addition to having a distinguished legal career in Egypt, Dr. Ziad is also a graduate of AUC and understands the challenges and opportunities facing the university in a very personal way. With the university's relocation to New Cairo, it will become increasingly important that the board be aware of the aspirations and goals the university's alumni have for AUC's future. I am confident Dr. Ziad will play a key role in ensuring that AUC is responsive to the needs of its alumni."
In addition to his business duties, Bahaa-Eldin is also founder and board member of the Ahmed Bahaa-Eldin Cultural Foundation, which promotes education, training and creative thinking among Egyptian youth. From 2004 to 2007, he served as chairman of the Egyptian General Authority for Investment and Free Zones, a government organization responsible for the promotion of investment, free-zone management and business climate policy advocacy. Previously, he worked as a lawyer and senior legal adviser to the minister of economy.
Bahaa-Eldin received a bachelor's in economics from AUC, a bachelor's in law from Cairo University, a master's in international business law (LLM) from King's College in London and a doctorate in banking law from the London School of Economics. He has also served as lecturer at Cairo University and the Arab Academy for Science and Technology.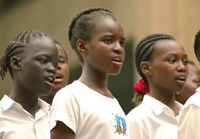 New Master's in Migration Studies Provides Regional Perspective
AUC recently established a new master's degree in migration and refugee studies. The multidisciplinary program is the first worldwide to combine migration and refugee studies with a focus on the Middle East and Africa.
Explaining the aim of the program, Philippe Fargues, director of AUC's recently renamed Center for Migration and Refugee Studies (CMRS), noted that the Middle East and Africa region is among the largest resource, transit and destination regions for migration and refugees in the world. Despite its strategic position, it suffers from the most acute deficit of accurate knowledge with regard to international migration. "The new master's program in migration and refugee studies at AUC will examine topics that are becoming top issues on the global agenda," explained Fargues. "Migration was not that important 10 years ago; now it is dealt with as a priority in a number of international forums."
Fargues added that AUC's strategic position in the region makes it an ideal location to study and research the issues of migration and refugee studies. "CMRS intends to fill this knowledge gap by working along three building blocks –– research, education and outreach –– and aims to form strong synergies between them," he declared.
For more information on the program, visit www.aucegypt.edu/ResearchatAUC/rc/cmrs/diplprog.
AUC Provides New E-mail Service Powered by Google
Coinciding with the move to the New Cairo Campus, AUC is establishing a new e-mail service based on the popular gmail product. AUCmail, powered by Google, offers new features, greater storage capacity and a more efficient interface. Addresses will carry the same URL: @aucegypt.edu.
John Stuckey, AUC's chief technology officer, called the new e-mail service a way of providing a "robust and full featured system" without spending a large portion of the university's budget. "We asked ourselves how we could provide the best possible service without breaking the bank," he said. "We realized the need for a system that is safe, reliable, fast, always available and able to incorporate new features. Google rolls these into one."
The virtues of the new system are numerous, starting with greatly increased storage capacity for every user, with multiple gigabytes of space. In addition, Google is packaging online office applications with the AUCmail service. Faculty, staff and students will be able to create, share and edit documents, spreadsheets and presentations from any computer with Internet access. These documents will be stored on secure Internet servers, which means that users can access them from anywhere in the world without having to send them as attachments. "Collaborative work will become much easier under this system," Stuckey explained.
Other features include shareable calendars that will make it easier to arrange appointments and meetings, and a vastly improved SPAM filter to keep unwanted messages out while allowing important correspondence through.
Explaining how the new service is of mutual benefit to both parties, Stuckey noted, "Google will receive the honor of associating with AUC, and if they do the job we expect, a solid reputation for excellence among our unrivaled community of students, alumni, faculty and staff."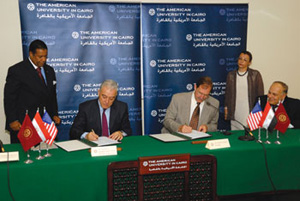 Ministry Endorses New Petroleum Engineering Major
AUC has signed a protocol with Egypt's Minister of Petroleum Sameh Fahmi to support the newly established undergraduate program in petroleum and energy engineering.
The new program adopts an integrated approach, striking a balance between petroleum engineering, gas technology and alternative energy resources. The program focuses on strengthening ties with the industry and giving its graduates an education in the latest trends in the field of petroleum engineering. It will also provide students and faculty with state-of-the-art laboratories in drilling engineering, oil and gas production, petrophysics and computer facilities.
"AUC petroleum and energy engineering graduates are expected to have excellent job opportunities in one of the highest paying professions worldwide," said Medhat Haroun, dean of the School of Sciences and Engineering. "Our primary goal is to produce highly qualified engineers with the best possible preparation to compete in local, regional and global energy-related job markets. Graduates will also have excellent opportunities to continue their education toward higher degrees."
Echoing the same sentiment, Fahmi noted, "Petroleum engineering is a thriving industry, and we are all committed to see this project thrive."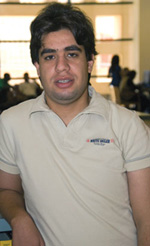 AUC Provides LEAD Scholarship to Visually Impaired Student
Abdel-Ghany Barakat is the first visually-impaired student studying under AUC's Leadership for Education and Development Program (LEAD).
Barakat, who graduated from Al Nour School for the visually impaired in Kafr El-Sheikh governorate, scored the highest grades among visually impaired students across the country in the thanawiyya amma exam. He was also the Student Union president at his high school and took part in several community service projects. In addition, he participated in the Youth Exchange and Study Program in the United States.
Happy to join AUC, he noted, "This is a very big opportunity for me. I will finally be able to live in a world I deserve to live in."
At AUC, Barakat plans to major in political science. He believes the university's facilities for the visually impaired will help him succeed. These include adaptive technology corners in the library with fully equipped stations and specialized software to help visually impaired students access the Internet, e-mail and library resources. Also available are a Braille printer and an electronic vision aid device.
After graduation, Barakat plans to pursue postgraduate studies and work with the United Nations or the Ministry of Foreign Affairs in helping to improve the lives of the visually impaired in Egypt. "I want to provide them with up-to-date technology and special needs programs, as well as a better educational system," he said.
LEAD is a collaborative venture between AUC, the United States Agency for International Development and the Egyptian Ministry of International Cooperation. Each year, the program admits to AUC two outstanding public school students –– one male and one female –– from each of Egypt's 27 governorates. Students receive a full-tuition scholarship, as well as access to a full range of support services, special programs and hands-on learning opportunities.
Career Web Provides New Employment Opportunities
As part of its commitment to providing a lifelong career-development resource for all its graduates, AUC has launched Career Web, an online system used by more than 600 U.S. universities that provides an efficient, organized system for alumni and students to keep track of career and internship opportunities.
Maha Fakhry, director of recruitment services at the Career Advising and Placement Services office, explained the plethora of services provided by the online resource. "It is a fully functional system with job postings, on-campus recruiting visits, internship opportunities, workshops and events," she said. "The new Career Web has all of the offices' services under one comprehensive system."
The most obvious improvement over the old system is the ease with which students and alumni have access to job postings, as well as the search program that enables users to filter positions and internship opportunities from hundreds of companies. "Using the old system, alumni had to complete forms for each position they were interested in and did not have the opportunity to search and filter career opportunities via diversified criteria," Fakhry explained. "We expanded on the old system and added functionalities so that users have confidential accounts and can apply for career opportunities and services any time, any day."
For more information, visit careerweb.caps.aucegypt.edu or e-mail caps@aucegypt.edu.
Four Faculty Members Honored at Commencement
At the 85th commencement ceremonies, four distinguished faculty members were presented with awards recognizing their achievements and contributions to the university.
Mohamed Abou Zeid, construction engineering professor, received the Excellence in Academic Service Award for his participation in a number of organizations on and off campus. Abou Zeid heads the Academic Integrity Council and serves as a distinguished visiting administrator at AUC's institutional research office. He was also chair and vice chair of the University Senate for four years. Outside of AUC, he is a board member of Clemson University's Center for Academic Integrity and Egypt's Quality of Education and Accreditation Authority. He is also a member of the Egyptian Shurra Council's education committee. "I need to remain engaged with my students, colleagues, grass roots and beneficiaries in order to relate to them and be more responsive to their needs," Abou Zeid said.
Presented with the Excellence in Core Curriculum Teaching Award, Adham Ramadan, visiting associate professor of chemistry, was honored for his extraordinary efforts in teaching two core courses for non-science majors: Chemistry 104, Man and Environment; and Science 150, General Science Lab.
Ramadan developed the chemistry course to incorporate new pedagogical tools, making strong use of information technology. With the lab course, he rewrote the experimental manual and worked with AUC's Center for Learning and Teaching to develop animations that would assist students in understanding the procedures involved in scientific experiments. "I would like to continue working on the promotion of active learning," Ramadan said.
Selected based on student recommendations, Charles Davidson, assistant professor of political science, received the Parents Association Award for Excellence in Undergraduate Teaching. He taught a variety of international law courses at AUC. "This award has strengthened my desire to re-double my efforts to provide students with the best possible learning environment that I can," he stated. "I, of course, would have done so without the award, but this sort of recognition is very important and really quite motivational."
Focused on developing new diagnostic and therapeutic strategies against the Hepatitis C virus (HCV), Hassan Azzazy, associate professor and chair of the chemistry department, received the Excellence in Research and Creative Endeavors Award. Through his work, he established a dynamic HCV research group at AUC to combat infection of the disease, which affects 10 million people in Egypt and 170 million worldwide. He was successful in attracting national and international funds, publishing articles in peer-reviewed journals and conferences, and forming a network of experts and collaborators from several Egyptian and international universities and research centers.
"Winning the award has had a dramatic impact on the morale of my research team, especially my graduate students," Azzazy said. "All members of my team have been working very hard on several research projects, and achieving this prestigious recognition will encourage us to work harder and increase our productivity to achieve our research goals."