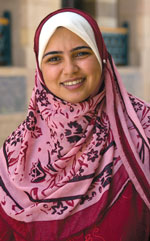 I am happy to be writing this letter from my office at the New Cairo Campus. Finally, AUC has established its new home.
Walking onto the campus on my first day back from my summer vacation, I was filled with a sense of pride. This is AUC, I thought. This is the place where I'll be working everyday. The architecture, the space and the whole layout of the campus were just wonderful to me. It is truly state-of-the-art.
Although some parts of the campus are unfinished and not all divisions are operational, one can imagine how good this will be a semester or year from now, when everything is up and running. Students, who may have a difficult time adjusting now, will eventually come to appreciate what this campus has to offer, not just in terms of buildings, but as a whole educational experience.
In this issue, we take you on a tour of the New Cairo Campus (see "Behind the Blueprints," page 10), with its various buildings and meeting spaces. In "Making History," (page 20) students give their reactions about the campus, and one journalism and mass communication student documents a diary during his first week of class (page 23). "Changing the New Cairo Landscape" (page 24) examines how AUC's presence in New Cairo is bound to change the dynamics of the area.
While the New Cairo Campus marks a new beginning, one should not forget that AUC is operating two campuses simultaneously. "Dressing Up Downtown" (page 28) looks at what parts of the university will remain in Tahrir, whereas "Nostalgia" (page 34) brings back cherished memories from different generations of alumni. In Akher Kalam (page 40), an alumna and staff member speaks of her fondness of the downtown campus since she was a little girl, and expresses her appreciation of the New Cairo Campus as a continuation of the old.
We hope you enjoy this issue and look forward to seeing you all in AUC's new home.
Dalia Al Nimr
We welcome all letters. Submissions may be edited for space and clarity. Please send all correspondence to:
auctoday@aucegypt.edu
or
Editor, AUCToday, Office of Communications and Marketing
113 Kasr El Aini Street, P.O. Box 2511, Cairo 11511.