Dune Racer

By Peter Wieben
"It's almost like you're in a boat," Abdel Hamid Abou Youssef '99 said of his car rallying adventure. "The dunes are like waves; the car goes up and down and left and right. There are all types of terrain. Personally, I find that the sand dunes are the most interesting, most dangerous and most beautiful."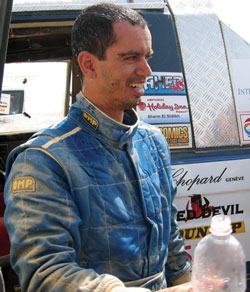 Abou Youssef at the finish line of the 2005 Pharaohs Rally, his first rally ever
Like a sailor on the open ocean, Abou Youssef's career as a rally driver has been fueled by a love of exploration that has taken him around the world through the most dangerous deserts and to the most remote mountain peaks. As the team owner and pilot for Sand Sea Sailors, a successful rally-racing team, adventure defines Abou Youssef's character, and he wouldn't have it any other way. "Adrenaline is a way of life," he declared.
A rally race can be more than 3,000 kilometers long and takes more than a week to complete. Along the way, a team like Abou Youssef's faces innumerable obstacles. "You can break the car on a jump or going over a bump," Abou Youssef said dramatically.
"You face all sorts of terrain, and you have to be driving as fast as possible. Of course, there's also the danger of getting lost."
Specifically, Abou Youssef finds Egypt's Great Sand Sea in the Western Desert one of the most challenging endeavors. "You face sand dunes that are 80 to 100 meters high," he pointed out. "The formations you come across are extremely complex. As a racer, you have to treat this terrain with the utmost respect."
Among his countrymen, Abou Youssef is at the top of his game, winning the international Pyramids Rally three years in a row. In 2007, 24 cars entered the prestigious and grueling Pharaohs Rally. Of these, only 14 finished, with Abou Youssef coming in fourth –– the only Egyptian to finish. "These races are a major challenge," he noted. "You know you have to be going fast, but there is always a balance of fast enough versus too fast. You want to get there quickly, but in the end, you want to get there."
With all of his success in the racing world, Abou Youssef is setting his sights on the international scene. Winning the Pharaohs Rally is one goal, but the real prize is even more difficult. "The Paris-Dakar Rally: I'd have to say that's the Holy Grail, the Everest and the K2 of my sport," he said, adding that Egyptians should one day dominate a racing sport whose track is the open desert.
"Egypt is underrepresented worldwide, and this is unacceptable. We are 96 percent desert! How can we not have the best teams in the world?"
Abou Youssef is working hard to change this. With his team he founded a rally school, which held its first classes in Winter 2008. The course was both theoretical and practical, with aspiring adventurers being taught to copilot, navigate, handle rough terrain and understand race regulations. "We're working to build a community in Egypt," Abou Youssef said. "We're trying to increase the number of fans and, of course, the number of achievements."
In the end, Abou Youssef attributes his love of the unknown to a spirit of exploration. "It is really all about exploration, which is also what I enjoyed about AUC," he said. "I was an engineering major, but I was encouraged to open my eyes to many different fields. I took theater, psychology and astrophysics. The liberal arts education at AUC really does embody a spirit of exploration."
In the coming years, Abou Youssef plans to build the rally community in Egypt and bring his own talents to an international stage. He said that while he loves winning, racing has always felt natural to him. "Out in the dunes, I'm at home," he explained. "I love knowing that I can race over these areas and leave a track, and if I came back the next day, it would be as if no one had been there for 1,000 years. It's such a beautiful, powerful place, and I'm fortunate to be there."
Below Left: Entering Crazy Man's Pass near Kharga Oasis during the 2007 Pyramids Rally

Below Right: At the podium of the 2006 Pharaohs Rally

Cover Photo Above: Crossing a sand dune in the 2007 Pyramids Rally