Au

S

c

enes
Switzer Named First Dean of Undergraduate Studies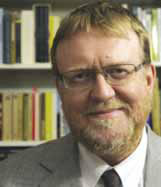 Rober t Switzer, associate professor of philosophy, has been named AUC's first dean of undergraduate studies as well as director of the Core Curriculum. AUC's newly created Office of the Dean of Undergraduate Studies will provide the critical link between existing undergraduate programs and strengthen their quality as a whole.
"The office will supervise and administer the Core Curriculum teaching fellows program; provide support and counsel to the school deans as they oversee their undergraduate prog rams and majors; and will work closely with the provost's office, the schools and the departments to ensure appropr iate scheduling, coordination and quality of instruction in all Core Curriculum cour ses," said Provost Medhat Haroun. Switzer is excited about the potential of the new position.
"There are tremendous oppor tunities here to re-energize the University's commitment to a world-class education for all of our undergraduate students, to rethink the registration and advising processes, to refocus on the liberal education philosophy that distinguishes and defines AUC, and to br ing classroom and community closer together in the context of the Univer sity's vital role as a catalyst for change," he said, adding that his two main objectives as dean are revamping the advising process and student mentoring, and working to create a more integrated and effective freshman year. As an AUC faculty member for 20 year s, Switzer's involvement at the University is widespread, from chair ing the Provost's Commission on Liberal Education in the late 1990s to ser ving as acting director of the Prince Alwaleed American Studies Center and, most recently, chair of the Department of Philosophy.
AUC Mourns Associate Dean Stephen Everhart
Stephen Everhart, associate professor of finance and associate dean for
undergraduate studies and administration at the School of Business, was killed in a tragic event in Baghdad in June 2011. A bomb exploded near his car as he was returning to the U.S. Embassy compound from meetings at a Baghdad university. Everhart was on a short-term consultancy to the United States Agency for International Development, aiming to develop entrepreneurship education in Iraqi university schools of business and commerce.
"The entire AUC community mourns the tragic and untimely death of Stephen Everhart," said President Lisa Anderson in an address to the AUC community. "
A dedicated member of our community and a model representative of our University, Steve worked with skill, humor and unflagging devotion to utilize the resources of AUC to nurture entrepreneurs and business leaders across the Middle East, and particularly, of course, in Egypt."
Everhart joined the faculty of The American University in Cairo in September 2008 and was named associate dean of the School of Business the following June. Previously, he served as managing director of the Overseas Private Investment Corporation in Washington, D.C., part of the team managing a $14 billion portfolio invested exclusively in emerging markets. In addition, he held a number of senior positions within the World Bank and the International Finance Corporation, and also taught at the World Bank Institute.

Everhart leaves his wife, Stephanie, and three children: Lindsay, a student at AUC, Hannah and Cooper. AUC
held a memorial service in his honor in September.

Latest Recording Studio Now Available at AUC
The School of Humanities and Social Sciences recently inaugurated a cutting-edge recording studio at AUC. With an Avid C24 mixer and controller, 24 channels, motorized and fully automated Digidesign, with Pro-Tools 9, the most widely used audio creation/production software in the industry, "the new recording studio is not just the best in Egypt, but in the entire Middle East as well," said Wael El Mahallawy, visiting assistant professor and director of the Institute for Music Technology at AUC's performing and visual arts department.
According to El Mahallawy, the recording studio is equipped with state-of-the-art microphones that have been used by famous singers such as Michael Jackson and Celine Dion. "Our aim is to equip our students for the real world," he said, adding that the new recording studio will expose students to different aspects of music production including sound engineering, film soundtrack audio engineering, visual media and radio studios.
AUC Expands Breadth of Graduate Offerings
As part of its ongoing commitment to increasing educational opportunities, AUC has introduced new Master of Science and Master of Engineering degrees in robotics, control and smart systems (RCSS), the first of their kind in the Middle East. "The RCSS program is unique and gives AUC the leading edge in this advanced field of technological development," said Maki Habib, professor of robotics and mechatronics and director of the RCSS program.
"The prospects for employment are good, and RCSS graduates will be in very high demand locally, regionally and globally." In addition, the School of Global Affairs and Public Policy (GAPP) launched new graduate programs in public policy, public administration and global affairs, as well as a dual Bachelor of Science/Master of Public Administration degree. Nabil Fahmy, dean of GAPP, explained that the global affairs degree offers "two distinct concentrations that will allow students to focus on issues related to security such as conflict resolution and disarmament, or on international development challenges in the global environment.
" The dual-degree program, on the other hand, gives the chance for students enrolled in AUC's School of Sciences and Engineering to apply to complete a Master of Public Administration (MPA) on an accelerated basis, in conjunction with the completion of the Bachelor of Science (BS) degree in construction engineering. "Many students have shown interest in the new combined BS/CENG - MPA program with GAPP, as it adds an important dimension to the engineering experience," said Mohamed Abou Zeid, chair of the construction and architectural engineering department. "One characteristic element is the integration between engineering knowledge and public work in a global context. As such, the graduates are more prepared to undertake tasks of wider scope that serve the community."
Alumnae Counted Among the 100 Most Powerful Arab Women
Khamis, Eltahawy and ElShinnawy
Three AUC graduates were named in a listing of the world's 100 most powerful Arab women, compiled and published by CEO Middle East. Farida Khamis '00, Mona Eltahawy '90, '92 and Maha ElShinnawy '84, '86 were each identified as setting exceptional standards of excellence. Khamis received her undergraduate degree with a major in business administration and a minor in psychology. She is now vice president of corporate finance at Oriental Weavers Group. The Egyptian-based firm, founded by her father in 1979, is today the world's largest producer of machine-woven carpets, with projects, factories and subsidiaries across the world.
Khamis has also established the nongovernmental organization Khayrazad, which provides medical equipment, hospital staff and financial support for lifesaving surgeries for children. Eltahawy is an award-winning columnist, international public speaker and one of the world's leading female Arab journalists. Based in New York, Eltahawy is a columnist for Canada's Toronto Star, Israel's The Jerusalem Report and Denmark's Politiken. She also writes regularly for The Washington Post and the International Herald Tribune, and has been a regional correspondent for Reuters.
Eltahawy is also a lecturer and researcher on the growing importance of social media in the Arab world. ElShinnawy, management professor and director of the Goldman Sachs 10,000 Women Entrepreneurship and Leadership Center at AUC, is an internationally recognized researcher whose interests focus on leadership, organizational change and group dynamics. She received her PhD from the Anderson School of Management at the University of California, Los Angeles in 1993; an MBA from AUC in 1986; and a BA in business administration with highest honors, also from AUC, in 1984. She has presented her work at numerous conferences and has published in leading journals.
Gerhart Center Expands Outreach Program
Following the revolution in Egypt, AUC's John D. Gerhart Center for Philanthropy and Civic Engagement, established in 2006, expanded its research and outreach programs to address the needs of the transitional period. In a public seminar series titled Egypt in Transition: Know Your Role, the Gerhart Center collaborated with El Sawy Culture Wheel to host youth activists, labor leaders and public officials in order to raise awareness regarding civic rights and obligations during the transition to democracy.
From sessions on electoral systems, parliamentary elections and the role of civil society to the creativity and humor of Tahrir Square, the series provided tools and information to help Egyptians participate in shaping their country's future. Barbara Ibrahim, director of the Gerhart Center, noted, "It was heartening to see the enthusiasm and seriousness among our diverse audiences, sometimes reaching 700 people. For the first time, they felt that their opinions mattered, and so were thirsty for solid information and to hear issues of the day debated intelligently.
" The Gerhart Center, which is the only center of its kind in the Middle East, will focus its efforts in the coming period on building citizenship skills and mobilizing local resources for change. One promising concept is the community foundation model, which could help to sustain the creative forms of informal social solidarity that emerged in early 2011, such as neighborhood watch groups and youth coalitions.
AUC Hosts Annual Cairo Science and Engineering Festival
Dedicated to events and activities that bring science outside of the University community and foster exchange on scientific matters, the second annual Cairo Science and Engineering Festival was organized by AUC's School of Sciences and Engineering Outreach Program in collaboration with the Massachusetts Institute of Technology (MIT) Cambridge Science Festival and the University of California, San Diego Science Festival.
Alaa Ibrahim, assistant professor of space astrophysics and founder of the festival, explained that AUC's science outreach program aims to inspire a knowledge-based culture, as well as foster innovation and creativity by taking science out of classrooms and laboratories, and presenting it through informal and entertaining media such as interactive exhibitions, art galleries, the performing arts, public lectures and dialogues. "The festival is a platform to blend and enjoy science and the arts together, and to offer unconventional means of scientific communication to society," said Ibrahim.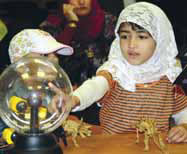 The three-week event included public lectures, open houses, as well as dialogues with Nobel laureates and science luminaries via videoconferencing from the MIT museum. In addition, high-school students from Cairo videoconferenced with high-school students from the San Diego, California area and were able to videotour a biology lab at the University of California, San Diego campus and conduct a renewable energy experiment together. As an extension of the festival, AUC students and faculty members visited the Children's Cancer Hospital of Cairo. Wielding suitcases filled with anatomical models, robotic cranes, magnetic puzzles and scale models of the solar system, students and faculty members set up experiments to interact with the children there and to teach scientific concepts through hands-on experience.
Ibrahim Awad Named CMRS Director
Ibrahim Awad, professor of practice at the Department of Public Policy and Administration, has been named the new director of AUC's Center for Migration and Refugee Studies (CMRS). Holder of a doctorate in political science from the University of Geneva, Awad hopes to expand the CMRS coverage of migration studies as well as its footprint in the global conversation on refugees and migration. "International migration is an increasingly important issue in the global system –– economically, culturally and politically," he said.
"Being situated in the Middle East, Africa and the Mediterranean –– all important regions in terms of international migration –– CMRS can meet a good part of the demand for teaching and research in the field." In addition to his experience at AUC, Awad has worked in a number of regional and international organizations including the League of Arab States, the United Nations and the International Labour Organization (ILO).
He most recently held the positions of director of the ILO Subregional Office for North Africa as well as director of the International Migration Department at ILO. Awad has served in several countries in Europe, Latin America and the Arab region. In addition, he has researched and published on issues related to international organization, migration and cooperation, as well as employment and human rights.
Mass Communication Students Win at UNICEF Movie Festival
| | | |
| --- | --- | --- |
| | | Journalism and mass communication students at AUC were recognized for their winning work at the Universities' Movie Festival, sponsored by the United Nations Children's Fund (UNICEF) at the Cairo Opera House. Runa Alarian led the student group that won first place in the category of best public-service announcement, presented as part of the Media Convergence Capstone course, taught by Naila Hamdy, assistant professor in the journalism and mass communication department. The second place in that same category went to the group led by Mohamed Abdel Bary '11 from the Integrated Marketing Communication class, taught by Sherine Fahmy (MA '84), associate professor of practice in the same department. |
AUC student Mona Helal, also from Hamdy's class, won third place in the short documentary category. Her film was about how the image of Egyptians and Arabs has changed because of the current democratic movements. "I was extremely impressed with the work of the students," said Hamdy. "I felt that they were exceptionally engaged with the course material because it was so closely related to the events in the country and to their personal beliefs." Fahmy expressed similar sentiments. "The film was beautifully produced, and the idea was highly creative," she said. "They did everything from A to Z by themselves." Alarian's team won first place for its film, The Drive to Safeguard the Spirit of the Square, aimed at spreading the patriotic spirit present in Tahrir Square that has led to camaraderie among rivals and less harassment of women.
Alarian and her group conducted market research to see if people were applying their actions in the square to their daily lives. Abdel Bary's team was awarded for its project, Think for Yourself, an integrated marketing campaign where the students worked on posters, flyers, TV commercials and online material for their Web site www.fakarbnafsak.com, which lists résumés of all self-nominating candidates for the upcoming parliamentary and presidential elections so people can make their choices on a rational basis. "We have been used to forgery and nepotism in elections," said Abdel Bary. "This is a social campaign to change that attitude."
AUC Launches New Freedom of Expression Policy
As part of its firm belief in individual liberty, AUC has recently revised its freedom of expression policy, whereby AUC community members now have the right to distribute printed material and make speeches outside University buildings without prior approval or notification. Protests are allowed on campus without prior consent, but require advance notification. "Apart from language that might incite violence or otherwise represent an immediate danger, all speech is protected," said AUC President Lisa Anderson in a message to the University community.
"We expect that all employees of the University will uphold, indeed celebrate, these rights." Deena Abdelmonem, AUC student and a member of the task force that devised the policy, noted, "The policy was formed to facilitate sit-ins and protests at the University. AUC does not want to prevent these strikes or protests from happening, but wants to ensure that they are safe and do not affect uninvolved parties." In addition to its new policy, the University also launched the Speaker's Corner last spring.
Held every Thursday in Bartlett Plaza, the initiative supports AUC's belief in open speech by providing a platform for students to get up and discuss issues of interest, whether through debate, formal speech or poetry. Through this platform, AUC students have been able to publicly speak out on issues of concern. To read AUC's new Freedom of Expression policy, visit www.aucegypt.edu/about/Expression.