The revolution in Egypt was a catalyst for change throughout the country. The transformative events of January 25 had a trickle-down
effect on many entities, including AUC.
In this issue, we look at change as it is manifested at all levels. "United We Stand" (page 12) sheds light on the recent protests at AUC, initiated by students, custodial staff, landscape workers and security guards. The strikers
demanded a reduction in tuition fees and more engagement in the University's annual budget process on the part of students, and better salaries and employment conditions on the part of workers. The agreement that was reached between the administration and all parties concerned marks a new beginning for AUC, where mechanisms have been put in place to ensure that all voices are heard, that long-term solutions are brought to the table, that issues are addressed even before they arise, and that transparency is
guaranteed in processes and procedures affecting the AUC community.
Outside AUC, change is also transpiring. "Pride and Persistence" (page 16) looks at the renewed sense of glory associated with being Egyptian, as well as the prospects for instigating positive change in a country transitioning from a 30-year autocratic rule to emocracy.
"Changing the Civic Landscape" (page 18) examines the expansion in the role of civil society after the revolution. With the new political climate in Egypt, leaders of nongovernmental organizations –– many of whom are AUC alumni –– are looking forward to a broadening of the civic sphere, revision of past restrictive laws and an atmosphere conducive to proper civic engagement. "Social Media: E-Commerce, Networking and Beyond" (page 30) focuses on the changing profile of Internet users in Egypt, particularly in the case of networking tools such as Facebook, as well as renewed e-prospects in the fields of business and education. "Native
Narration" (page 32) provides an eyewitness account of the revolution, as told by Yasmine El Rashidi '97 in her new e-book, The Battle for Egypt: Dispatches from the Revolution. El Rashidi's book is a compilation of journalistic dispatches she wrote for The New York Review of Books, giving her personal reflections as a journalist, writer and Egyptian citizen, and describing the type of change she wishes to see in her home country.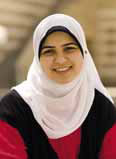 As Winston Churchill once said, "There is nothing wrong with change, if it is in the right direction." We hope to move in the right direction in order to build the new, free Egypt we all wish for.