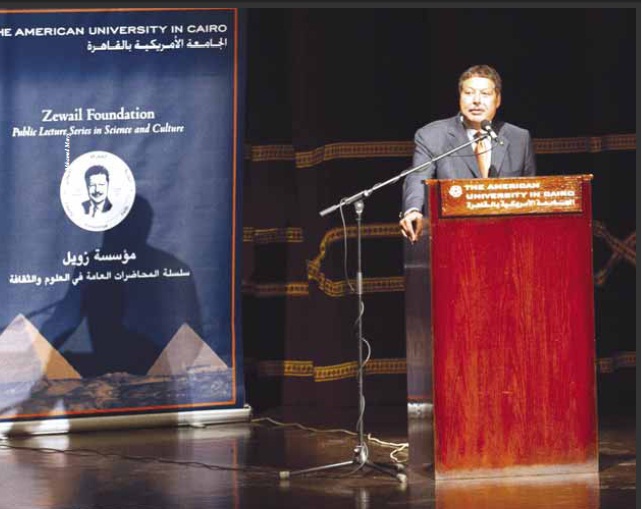 The Zewail City of Science and Technology
promises the rebirth of a scientific renaissance in Egypt
With Egypt at a crossroads, all eyes are turned toward drafting a roadmap for establishing democratic rule, restoring order, maintaining stability, jumpstarting the economy and removing the remnants of the Mubarak regime. Ahmed Zewail, Nobel laureate, Caltech professor and AUC trustee, has chosen to make a difference through science by establishing the Zewail City of Science
and Technology: Egypt's National Project for Scientific Renaissance.
"The only path to building a positive future for Egypt is by
restructuring the educational and scientific research realms," he said, speaking at AUC Tahrir Square to an overflowing Ewart Memorial Hall last summer. "Nobody has the complete answer to what constitutes proper education, but we need a clear vision for a modern educational system that will raise the efficacy of the Egyptian individual. And that's where the role of the Zewail City of Science and
Technology comes in."
An independent, nonprofit organization, the project was met with enthusiasm by the ruling Supreme Council of Armed Forces and Prime Minister Essam Sharaf. The project was initially proposed by Zewail in 1999, when he received the Nobel Prize in chemistry, and was approved by the Mubarak government, but no action had been taken to advance it. Today, more than a decade later, Zewail's dream is coming to life. "Now, the climate is right; I'm optimistic," Zewail said.
The institution, an integrated city for education, research and development, will offer undergraduate and graduate programs in a variety of fields, including medicine, materials science and engineering. A state-ofthe- art technology park, several technology pyramids and seven centers of excellence will also be established. Bringing together top researchers and scientists from around
the world, the institution will act as a think tank, evaluating large-scale national projects and making its findings accessible to policymakers. In addition to science, there will also be cultural and literary activities.
"When the project is completed, what we need is discipline and hard work," Zewail noted. "Just as Japan was able to overcome the nuclear crisis that was about to eradicate the country altogether, we should all take part in civilian life to build our new Egypt. The most important thing is to do things right."
To ensure institutional independence, a board of trustees with members from the local and international communities was formed. These include six Nobel laureates, a group of finance specialists, as well as leading scientists such as presidents of the U.S. National Academy of Engineering, the California Institute of Technology and the Chinese Academy of Sciences. The board also includes well-known figures such as Sir Magdi Yacoub, prominent heart surgeon and founder of the heart center in Aswan; Mohamed Ghoneim, a renowned urology physician; and Mostafa El-Sayed, leading researcher and professor at the Georgia Institute of Technology, among others. "The differentiating factor here is scientific achievement; no wasta [favoritism]," said Zewail. "We are looking for serious
researchers who can make a difference."
The preliminary budget for the project is $1 billion for endowment and $1 billion in cash, Zewail said. A fund has been set up, accepting donations via a unified account (10001000) across all banks in Egypt. Afterward, donations will be sought from other Arab countries and abroad, including the European Union, China and the United States. "This national project is characterized by
administrative and financial independence, and we chose to first set up the fund in Egypt to prove that Egyptians are serious about this initiative and are capable of creating their own national scientific renaissance," Zewail affirmed. "The first word of the Quran revealed to Prophet Muhammad was 'Read,' and the project's fund carries the same name, which stands for Renaissance in
Education And Development."
Zewail drew parallels with the nahda, or cultural renaissance, that began in the late 19th and early 20th centuries in Egypt during the reign of Muhammad Ali, who saw education at the core of any reform movement. "This nahda gave Egypt profound influence on the
Arab world, but we can't keep living in the past," Zewail said. "The world is moving at a fast pace, and today's Egyptian renaissance will only come about through scientific research."
Affirming his belief in his countrymen, he added, "We don't have enough resources such as petroleum as is the case in other countries, but we do have 85 million Egyptians, and the future of Egypt will be built at the hands of those Egyptians. … Change
will happen sooner than you think. I have complete confidence in Egyptians, who have always made history."

By Dalia Al Nimr