Book: Access to Knowledge in Egypt: New Research on Intellectual Property, Innovation and Development
Edited by Nagla Rizk and Lea Shaver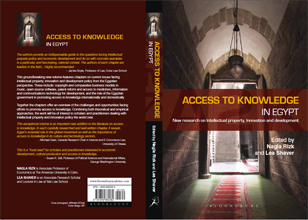 The conventional wisdom in Egypt examines the issue of intellectual property solely as a question of policing and enforcement. The high levels of protection indicated by the WTO Agreement on Trade Related Aspects of Intellectual Property Rights are unquestioningly assumed to be desirable. Policy debates—and all too often academic ones as well—focus only on the questions of how to more efficiently tighten IP protection and crack down on "piracy." Yet a more critical examination is urgently needed, whereby IP law, policy, and practice are viewed from a development perspective, rather than from an enforcement perspective.
This volume takes on this endeavor. It offers the first examination of IP issues in Egypt adopting a multidisciplinary bottom-up approach that aims at maximizing access and contribution to knowledge, and in turn, promoting development. Bringing rigorous empirical research to bear on unquestioned ideologies, the collaborating authors question the conventional wisdom that more IP protection is necessarily better for innovation and development.
Foreword
Access to Knowledge: Economic, Global and Local Perspectives
Egypt's Role in the A2K Movement: An Analysis of Positions and Policies
Access to Medicines In Egypt: A Human Rights Approach to IP, Trade and Health
Stories from Egypt's Music Industry: De Facto Commons as Alternatives to Copyright
The Software Industry In Egypt: What Role For Open Source?  
Information and Communications Technology for Development: Building the Knowledge Society in Egypt
"This volume is an important contribution to recovering a nuanced, contextually aware view of access to knowledge and global knowledge governance. Its detailed, careful studies provide a much more refined window on the world of innovation and creativity in Egypt than the standard models would permit. The essays Rizk and Shaver collect and author here contribute to our recovery of a deeper understanding of how the production of information, innovation, culture, and knowledge affects the core of human development and human rights." — Yochai Benkler, Jack N. and Lillian R. Berkman Professor for Entrepreneurial Legal Studies, Harvard Law School
"Though its immediate focus is Egypt this book has a much wider relevance. It is essential reading for all those interested in the Access to Knowledge movement and the current debate about intellectual property rights and development worldwide. With chapters covering everything from the diplomatic history of the intellectual property "development agenda" to open source software, pharmaceutical innovation and the Egyptian music industry, the authors provide an indispensable guide to the questions facing intellectual property policy and economic development and do so with concrete examples in a particular, and fascinating, national context. The authors of each chapter are leaders in the field and the introduction is clear and comprehensive. Highly recommended." — James Boyle, William Neal Reynolds Professor of Law and co-founder of the Center for the Study of the Public Domain at Duke Law School
"This exceptional volume is an important new addition to the literature on access to knowledge. In each carefully researched and well-written chapter, it reveals Egypt's essential role in the global movement as well as the importance of access to knowledge in its culture and technology sectors." — Michael Geist, Canada Research Chair in Internet and E-Commerce Law at the University of Ottawa, Faculty of Law
"Access to Knowledge in Egypt is an outstanding example of the empirical, granular, multidisciplinary study of local laws, industries, and conditions required to understand how best to promote development and access to knowledge in the global South. The authors present lucid and illuminating analyses of Egypt's leading role in promoting a development agenda in the international intellectual property treaty regime and of Egypt's policies and markets in the areas of pharmaceuticals, the music industry, open source software, and information and communications technology. In so doing, this book at once cogently presents a cautionary tale against one-size-fits-all solutions and highlights the centrality of access to knowledge for economic well-being, innovation, and human liberty." — Neil Netanel, Professor of Law, UCLA School of Law
"Nagla Rizk and Lea Shaver have brought together a skilled, multi-disciplinary team to examine access to knowledge issues in Egypt. The volume includes well-informed analysis across patent and copyright issues and excellent discussions of open source software, information and communications technologies, and music and cultural production in Egypt. Based on primary documents, first-hand experience, numerous interviews, as well as scholarly literature, this book both juxtaposes and connects intellectual property policy across multilateral, regional, bilateral, national level, and individual practices. It makes a compelling case for policy coordination for access to knowledge in ways that best suit Egyptian development needs. This is a "must read" for scholars and practitioners interested in economic development, cultural production, and access to knowledge." — Susan K. Sell, Professor of Political Science and International Affairs, Director, Institute for Global and International Studies, George Washington University, Elliott School of International Affairs
"This book represents a critical first step in opening a multi-dimensional policy dialogue in Egypt on a subject of pivotal importance to social and economic development — enhancing access of citizens to information and the fruits of technical progress." Frederick M. Abbott, Edward Ball Eminent Scholar, Professor of International Law, Florida State University College of Law
A2K in Egypt is the outcome of teamwork within Egypt's A2K research team based at the American University in Cairo in collaboration with the Information Society Project of Yale Law School. Egypt's A2K research team has been the core of what is now the Access to Knowledge for Development Center (A2K4D)
Foreword: Jack Balkin, Director, Information Society Project, Yale Law School.
Chapter Authors: Ahmed Abdel Latif (International Center for Trade and Sustainable Development), Hossam Bahgat, (Egyptian Initiative for Personal Rights), Sherif El-Kassas (American University in Cairo), Sherif Kamel (American University in Cairo), Nagla Rizk (American University in Cairo), Lea Shaver (Information Society Project Yale Law School), Rebecca Wright (ex Egyptian Initiative for Personal Rights)
Research Associates
Lina Attalah (Al Masry AlYom, English), Amira El Marsafawy (American University in Cairo), Dina Iskander (Egyptian Initiative for Personal Rights), Dina Waked (Harvard Law School), Dalia Adel Zaki (United Nations Development Programme)