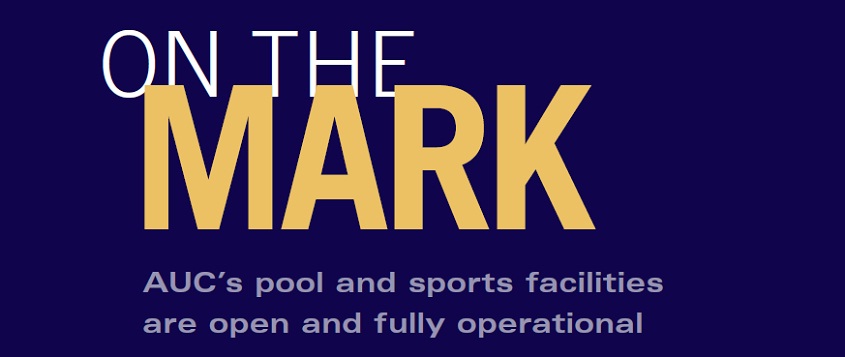 The opening of the Paul B. Hannon Swimming Pool last spring marked the completion of AUC New Cairo's Sports Center, which occupies the largest space on campus with more than 40,000 square meters of indoor and outdoor facilities. While the past year presented a series of challenges, as the pool and squash courts remained closed until the final months of the school year, this year promises to see the debut of a fully functional sports complex.
Now that the facilities are up and running, the university will host a number of competitions, including the upcoming Arab Sports Universities tournament, due to be held in October 2010. Bringing in athletes from several nations to compete in a variety of sports competitions, this will be the first time a multinational athletic tournament takes place at the Sports Center and will include men and women's basketball and track events, as well judo, taekwondo and swimming. "We're very excited about hosting such an event on campus," said Chuck Gordon, director of athletics.
Both trained athletes and the broader AUC community are taking advantage of the amenities available at the Sports Center. "Our teams continue to compete at a high level in these spaces, but the athletic facilities are also there for general recreational users to take advantage of for increasing their personal health and fitness levels," noted Gordon.
With the opening of the sports complex, new membership policies have also been introduced. "In the previous semesters that the Sports Center has been open, we have not charged membership fees because the facility was not yet complete," explained Gordon. "The facility is now fully open, and we are asking that non-student members of the community who use the Sports Center contribute to its programming and upkeep.
Currently enrolled full-time AUC students may use the facility, including the pool, without additional charge, as use of campus facilities is already incorporated into student fees. Other AUC community members, such
as alumni, faculty, senior administration and managerial staff, are assessed nominal fees. For alumni, fees are set at LE 3,000 per year or LE 1,500 per semester. There are no additional court fees for tennis or squash, nor charges for use of any other areas. Additionally, sports equipment for many activities is available for checkout free of charge at the control desk near the locker rooms with the presentation of a valid AUC ID. Athletic lockers may be rented for the semester; however, day-to-day use is also available free of charge. For more information, e-mail athletics@aucegypt.edu.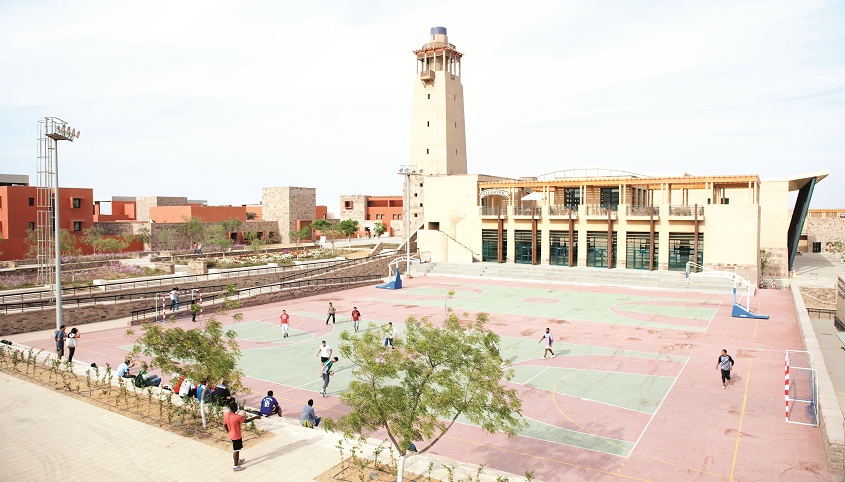 | | |
| --- | --- |
| | |
| | |
The outdoor facilities, which are all lighted for evening play and have spectator seating, include the Paul B. Hannon Swimming Pool and the Mr. Khalaf Ahmad Al Habtoor Football and Track Stadium, a main football field with a 400-meter, 10-lane track and field facility that will be inaugurated this fall by businessman Khalaf Ahmad Al Habtoor. The outdoor sports facilities at AUC New Cairo also include the J. Dinsmore Adams, Jr. Tennis Courts (six courts); the Ahmed Galal Ismail '97 Basketball Court as well as a secondary court; two grass fields including the Joseph B. and Ruth J. Ward Field; one handball court and four volleyball courts.
The new AUC pool is 50 meters in length, the Olympic standard, and features a new scoreboard and a Colorado timing system with in-deck timing, which will be used for competitive racing. It is designed for recreation and fitness, and also serves as a site for water polo team practices and scuba diving training. Two meters deep at the shallowest end, it is ideal for lap swimming. "The pool has quickly become a part of campus," said Gordon. "It's an excellent place to exercise and relax. We see many members of the community out at the pool swimming laps and playing water polo or sitting by the side of the pool in the deck chairs."
While AUC community members looking to cool off or swim for exercise are thrilled at the opening of the pool, the AUC swim team, for whom this represents the first time they have had a home pool, has perhaps the most reason to celebrate. "We are really happy to have the pool open this academic year and excited for what it means for our team," said Louise Bertini, coach of the AUC swim team. "The Colorado timing system is one of the best timing systems available for competitive swimming, and we are the only pool in Egypt to have the newest version. This will allow for the most accurate judging and timing of races."
| | | | |
| --- | --- | --- | --- |
| | | | |
| | | | |
| | | |
| --- | --- | --- |
| | | |
| | | |
| | | |
| --- | --- | --- |
| | | |
| | | |
| | |
| --- | --- |
| | |
| | |
The indoor facilities include the ARTOC Sports Court, which can be set up with three full-size basketball courts and three volleyball courts, or a competition-size handball or basketball court, with spectator seating for more than 2,000 people. For students, the indoor court provides an opportunity to heighten their practice. "The indoor court allowed us to organize morning and noon training without having to worry about other teams or weather conditions, especially the heat," said Rana Badawy '10, who was captain of the AUC women's volleyball team last year.
Echoing the same sentiment, Farah Hannoun, a sophomore studying integrated marketing, noted, "I have played on a lot of courts at different private clubs in Egypt, and I can honestly say this is the best basketball court I've seen. What is even better is that I can easily go from the basketball courts to the fitness room, tennis courts or the pool. Everything is right there."
Other facilities include fitness areas, which are comprised of four exercise rooms, including an aerobics area, a free-weight room, the Ahmed H. Said '85 Gym and a private exercise room. All are equipped with state-of the-art machines, treadmills, elliptical machines and free-weight equipment. There are also the J. Dinsmore Adams, Jr. Squash Courts, comprised of six courts, two with spectator areas for 200 people, and designed to allow for hosting tournament games. The Mohamed El Rashidi Gym has a full-size basketball court that may also be used for volleyball. In addition, there is a table tennis area with five tables, a martial arts room, as well as locker rooms, and sauna and steam rooms for men and women.