Past the Protests: A Call to Civic Responsibility
AUC students take part in the youth-led initiative to clean the streets of Cairo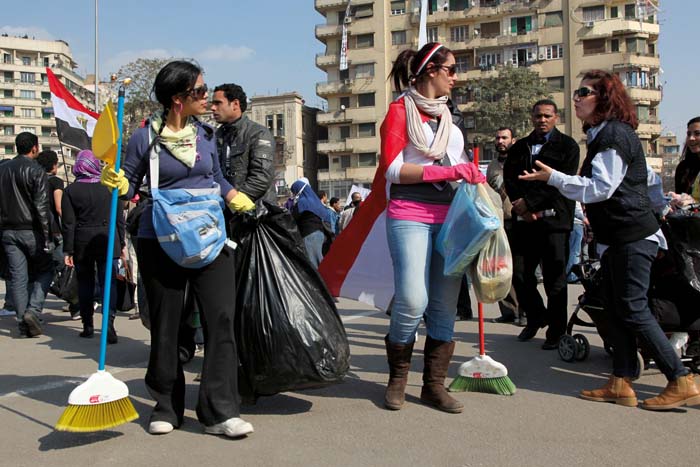 Youth all over Egypt, including AUC students and alumni, took part in clean-up activities in Tahrir and other parts of the country - Photographed by Omar Kamel '94
As the nation endured critical circumstances on January 25, it was crucial for all Egyptians, whether male or female, young or old, rich or poor, to attend to their civic duty. It is through these trying times that societies show what they are made of, and Egyptians did not fail to deliver with their magnificent sense of cooperation, solidarity and persistence. Tamer Sergany, a business administration senior at AUC, was engaged in neighborhood watches at a time when police forces disappeared off the streets of Cairo. "I knew immediately that I had to go out when I saw my dad pick up a club and walk downstairs," he said. "People were on every street corner with all sorts of hand weapons, armed to defend themselves, their families and their homes. I was on the street with a metal broom rod and a giant steel wrench, up until dawn the next day. Every time I'd patrol, more and more youth joined me to protect the area. We set blazing fires at every street corner and made sure to stop every vehicle that passed us."
Sergany, who actively took part in the nationwide protests against the Mubarak regime, believed the revolution would succeed against all odds when violence was utilized against the demonstrators. "I knew that if Egyptians kept at the pace I saw and experienced on January 28, then the revolution would succeed," he noted. "After seeing families, women, children and the sheer number of people marching to Tahrir Square, that's when I told myself there's no way things will be the same. Something was going to change, whether due to government fear or the force of the people."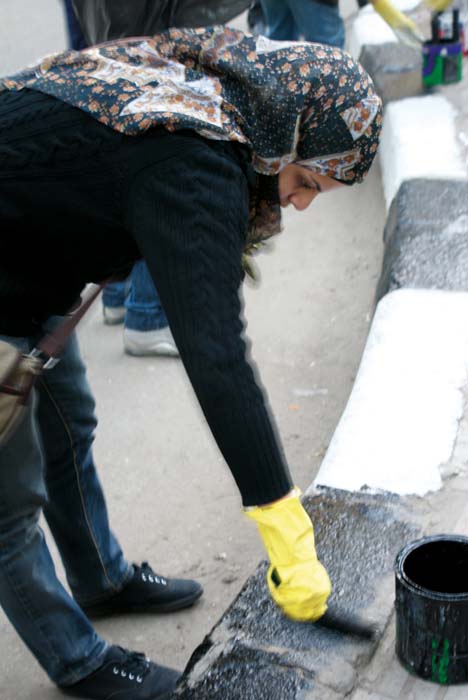 Manal Hassan '11 painting a sidewalk in Mohandiseen, Cairo - Photographed by Ahmed Rashed '11
Marveling at the sense of responsibility and collaboration that was manifest in Tahrir Square, Sergany recalled efforts exerted by demonstrators in Tahrir the day before Mubarak stepped down. "On February 10, I went to Tahrir again only to find it was completely different," he explained. "It was blockaded at every entrance, with regular citizens checking the IDs of everyone who wanted to enter. I was in sheer shock at the cleanliness of the square and the cooperation of the people. Everybody was very wellorganized, and we all stood in unity."
While some of the demonstrators may not have been politically active, they all shared one thing in common: a dream and vision for a better Egypt. "I wasn't into politics much, but I went to protest against corruption," Sergany said. "If there is any change that I'd like to see, it would be ethics, equality and the enforcement of human rights. No more bribes or under-the-table deals just fairness and morality in every aspect of Egyptian life and society."
Being a female in the midst of all the violence did not deter Hagar Eldidi, an economics major, from attending to what she believed were her responsibilities as an Egyptian citizen. "I was present in Tahrir Square on the day Mubarak stepped down," she said. "It was overwhelming and amazing to finally witness such a moment. People around us were literally crying in happiness. It felt absolutely wonderful." She added, "I definitely anticipated the success of the protests, especially when I saw the determination and strong will of the people. I feel very proud being part of this revolution –– a tiny dot among hundreds of thousands in Tahrir Square who together created such a strong force that made all the difference."
But Eldidi's contributions were not limited to joining the demonstrators in Tahrir Square. After protestors successfully managed to overthrow the regime, Eldidi knew that this newly found sense of liberation, and indeed potential for a better future, had to be supported by positive action. "Cleaning the streets was my favorite part," she said. "I went to Tahrir on Saturday, February 12, the day after Mubarak stepped down, and the spirit was amazing, with everyone there celebrating and cleaning the area where they camped. This mattered to me because I saw that these people really cared about the future of this country and were serious about rebuilding it the right way. It proved to be a civilized revolution. To me, it meant that if we could clean Tahrir Square, then we could also clean the rest of the country together. I would also like to commend all those who endured sleep deprivation to protect us at night. I saw neighbors get to know each other for the first time."
Eldidi's sense of commitment extended beyond Tahrir Square to serve her own neighborhood. "I collaborated with people from my neighborhood in cleaning the area and buying paint for the sidewalk," she said. "We arranged for a truck to come and collect the garbage. Many people were helping out, including little children who were actually doing a great job. I think it was a very beneficial experience. It taught the younger generations good values. I hope that this level of enthusiasm doesn't weaken over time so that we can really continue to give back to this country and live a dignified life."
By Ghaydaa Fahim