Serving Through the Storm
Security guards at AUC Tahrir Square worked with dedication and courage amidst the uproar to protect the campus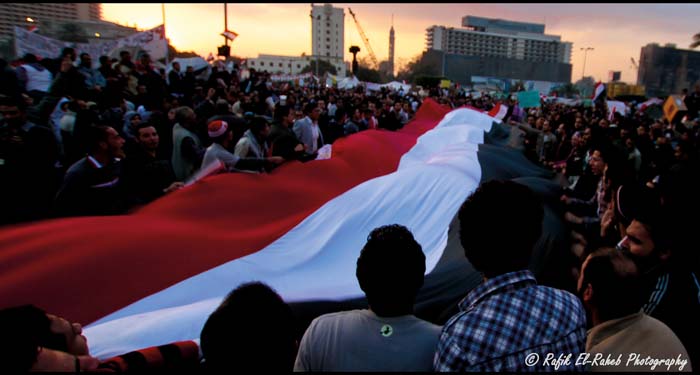 Protestors in Tahrir Square a few days before Mubarak stepped down
With the eruption of the January 25th Revolution, security guards at AUC Tahrir Square found themselves in the heart of events, but had to distance themselves from the turmoil to safeguard the campus downtown. "We didn't want to be associated with any faction in one way or the other," said Mokhtar Ragab, assistant director for security. "Our main aim was to protect AUC property."
Recounting the first few days of the revolution, when violence was at its peak, Ragab noted that on January 25, things were stable up until the afternoon, when riot police fired tear gas canisters and sprayed water cannons to clear protestors, who sometimes hurled rocks and climbed on top of armored police trucks. "In the midst of such clashes, tear gas canisters were thrown into the Science Garden," Ragab noted. "We didn't throw them back outside; otherwise, it will look like AUC was taking part in the uprising. We just monitored the tear gas until it reached its full volume and diffused."
On the 28th, termed the Friday of Wrath, events took on a different turn. "We anticipated that this was going to be a difficult day, and consequently, took certain measures to ensure the safety of the campus," Ragab said. "We closed University gates and put out all lights. Nobody was allowed to watch from the top of any AUC building, or throw tear gas canisters or rocks outside if such items found their way to campus. We also organized ourselves in 24-hour shifts between the Main, Greek, Falaki and Sheikh Rihan campuses. Because it was difficult coming to work during such unpredictable times, we were sometimes short-staffed, and some of us had to work three continuous days before being able to return home."
One of the scary moments for the guards was when fire broke out in the police booth just outside the Mohamed Mahmoud Gate. "We all collaborated to put the fire out using the University's water hoses," Ragab said, adding that they faced a dilemma when some protestors wanted to use the hose to spray water at riot police. "We were afraid that if we reject, they'll storm angrily into AUC, so we kept the water running for a little while before we were able to gradually turn it off."
The problem was compounded when a Molotov bomb caught onto a tree next to the AUC Press Bookstore, and leaves on fire fell onto plastic plant pots near the historic palace gate. Isaac Atef, a security guard who boldly threw himself into the heavy smoke to put out the fire, recalled how scary those moments were. "My heart sank when I saw the fire from where I was standing [near the bookstore] because I knew there were electric wires nearby, and this could turn into a catastrophe," he said. "We were all afraid, but we had to put out the fire quickly before it spread. This campus is historic, so if any damage occurs, it is a loss not only for AUC, but for the country as a whole."
Things got worse that evening when people forcefully stormed into AUC's Downtown Cultural Center through the gate in front of the historic palace building. Ragab classified entrants into three groups: a peaceful group of protestors who sat in the Science Garden to drink water and catch their breath from the tear gas before leaving quickly; another more violent group who took sculptures from above Ewart and Oriental halls, broke them into pieces and used them to hurl at riot police; and a group of thugs who went into offices and stole computers. In the midst of such commotion, riot police broke into the campus through the Sheikh Rihan gate, pointed their guns at AUC security officers so they wouldn't stand in their way and threw tear gas canisters from the top of AUC buildings. "Because they were armed and ready to shoot, we knew we couldn't forcefully ask them to leave, so I asked the police officer from the booth next to the Mohamed Mahmoud gate, who took shelter inside Hill House when fire broke out in his booth, to talk to them peacefully and convince them to leave," said Ragab, who was hit in the head by a stone during the protests. "When they left, we inspected the campus and found papers on the ground, some broken computer monitors, desks on the floor, chairs on top of one another and some AUC Press offices looted. We tightened new chains around the gate in front of the palace building so nobody would be able to enter again."
Throughout the 18 days, security guards at AUC Tahrir Square went through ups and downs as events unfolded in the country. However, their perseverance and dedication helped protect AUC Tahrir Square from what could have turned into a violent bloodbath. "We had to keep the interests of the University in mind and not have anybody use AUC as a center of activity," Ragab said. "When dealing with armed police officers and thugs, it was important for us not to be provocative, remain calm and look very composed, even though at many times, we were really scared."
By Dalia Al Nimr