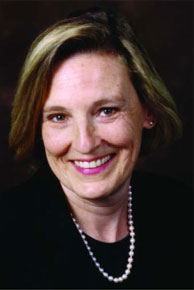 AUC announced the appointment of Lisa Anderson, former dean of the School of International and Public Affairs at Columbia University and AUC trustee, as its next provost. Anderson succeeds Tim Sullivan, who has served as provost since 1998 and professor of political science since 1973.
"I am delighted to be joining AUC at a pivotal time for the university and for higher education in Egypt and the Arab world,"Anderson said."Thanks to its history of distinguished and far-sighted leadership, AUC is uniquely positioned to play a vital role in the development of higher education for the 21st century, not only in the region, but globally. I am privileged to be a part of this venture."
AUC President David Arnold said that the appointment of an academic leader of Anderson's stature is a reflection of AUC's increasing prestige internationally as an institution of higher education."Professor Anderson has been a leader in higher education in the United States for the past several decades," he said."AUC is fortunate to have attracted a respected academic and experienced administrator of her caliber as we prepare to embark on a second century of leadership in higher education in Egypt and the Arab region."
A specialist on politics in the Middle East and North Africa, Anderson is professor of international relations at Columbia University, where she previously served as chair of the political science department and director of the Middle East Institute. Before joining Columbia, she was assistant professor of government and social studies at Harvard University. A prolific author, Anderson is also chair of the board of directors of the Social Science Research Council, a member of the Council on Foreign Relations, an emerita member of the board of Human Rights Watch and a board member of the Carnegie Council on Ethics in International Affairs. She holds a bachelor's from Sarah Lawrence College, a master's in law and diplomacy from the Fletcher School at Tufts University and a doctorate in political science from Columbia University.
Al Alfi MBA Fellowship Established for Science, Engineering Graduates
In an effort to equip future industrial leaders with strong business skills, the Al Alfi MBA Fellows Program was recently established between AUC and the Al Alfi Foundation, an organization focused on human and social development, and chaired by AUC Trustee Moataz Al-Alfi. The program provides a full-tuition scholarship for up to five science and engineering graduates from an accredited university to study for an MBA at AUC.
"The fellowship is one way the foundation intends to support the youth of Egypt in their endeavor to become the new cadre of entrepreneurial leaders and decision makers in industry in the future," said Al-Alfi, who is the chief executive officer of EK Holding Company and vice president of the Future Generation Foundation."The American University in Cairo's MBA program is of the highest quality; it seemed natural that the foundation's first initiative should be housed there."
Eligible candidates must be Egyptian nationals and have a minimum GPA of 3.25 or gayed geddan, at least three years of relevant work experience in the manufacturing or industrial sector, and a strong command of the English language.
For more information on graduate fellowships, visit www.aucegypt.edu/admissions/gradadmissions/finsupport.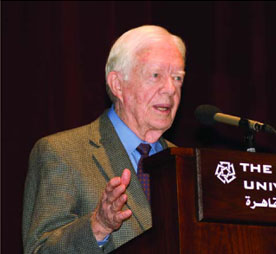 "It is my dream and hope that some day in my lifetime, and I hope in this year, that we'll have another breakthrough for Middle East peace," said former U.S. President Jimmy Carter during a speech at AUC. Carter was in Cairo as part of a trip to the Middle East to help ease tension in the region. He said he was not an official negotiator; rather he was holding talks "as someone who is interested to make an analysis of all the
complex aspirations, desires, fears, dreams and hatreds" in the region.
"I enjoy being a former president," Carter remarked, noting his ability to travel without restraint to many parts of the world in need of medicine, economic aid and peace. "It is a wonderful chance to do things around the world that are innovative, exciting, challenging and sometimes successful."
Talking about his efforts to make progress in the Middle East, Carter said that his goal was "to bring peace to Israel, and peace and justice to all of Israel's neighbors." He said that no agreement could be reached among the contesting parties unless the discussion involved all of the factions concerned. Specifically, Carter defended his own decision to meet with Hamas."To have peace in the Holy Land you have to involve Hamas, who won the election in 2006," he said.
Carter acknowledged that the United States and Israel had effectively banned such discussions, and he drew laughter from the crowd when he said that this was a rule to which he considered himself immune.
Following the speech,AUC President David Arnold presented Carter with the Presidential Medal, an honor AUC has given only seven times in its 90-year history. The honor was presented, Arnold explained, "to people who have done extraordinary things for the advancement of Egypt and for the human progress of the peoples of the world."
To listen to Carter's full speech, visit www1.aucegypt.edu/resources/smc/webcasts.
AUC-Wharton School Partnership Helps Women Take Lead
As part of the newly launched 10,000 Women initiative funded by the Goldman Sachs Group, Inc.,AUC is partnering with the University of Pennsylvania's Wharton School to create a business and management certificate program specifically for women in Egypt and the region.
The global initiative provides underserved women, particularly in developing and emerging markets, with a business and management education.The program between AUC and Wharton is the initiative's first program in the Middle East and is expected to train more than 500 women over the next five years.The two institutions will create a five-week certificate program focused on professional leadership management and entrepreneurial skills. Participants will be selected according to financial need and proven ambition, and those who enroll will take part in a rigorous curriculum that includes fieldwork with local businesses.
Graduating Class Celebrates Last Commencement Before Move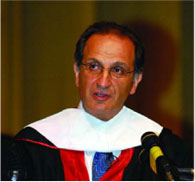 James Zogby, undergraduate commencement speaker
The 85th commencement ceremony was historic in nature, marking the last graduation before AUC's move to New Cairo.The graduate commencement celebrated the success of 141 master's degree candidates, who received their degrees in Ewart Memorial Hall amidst cheers and applause from the audience of family and friends. In a similarly festive event, 362 candidates received their undergraduate degrees at the Cairo International Conference Center.
Recognizing the work of a prominent American scholar and lecturer,AUC awarded an honorary Doctorate of Humane Letters to James Zogby, founder and president of the U.S.-based Arab American Institute. Delivering the keynote speech at the undergraduate commencement, Zogby invoked his view of the positive aspects of the American people."Carry this degree from an American institution with pride," he said."I have long been a critic of my country's policies, but there are two faces to American history."
At the graduate commencement,Taher Helmy, international lawyer and senior partner in Helmy, Hamza and Partners/Baker & McKenzie, called on the graduates to use their passion and creativity to find their full potential."No one can predict your future," he declared."You will look back at this day and realize that your potential is far greater than you thought."
Helmy reflected on his own experiences, recalling how he switched to studying law after spending four years in pre-medical school."Changing majors or jobs is not a waste of time or money," he said."How you feel about your work is a critical indication of how good you'll be at it. ... Input from your parents is important, but the choice is yours."
A host of distinguished visiting professors came to AUC this spring, delivering lectures on a variety of topics.Visit
www1.aucegypt.edu/resources/smc/webcasts to listen to the full speeches.
John Prendergast, human rights activist and author,"The Bush Administration's War on Terror: Implications for Human Rights and Peace in Africa"

Stephen Walt, professor of international affairs
at Harvard University and co-author of

The Israel Lobby and U.S. Foreign Policy

,"The Israel Lobby in the United States"

Amitav Ghosh, Indian anthropologist and author, "The Making of In An Antique Land: India, Egypt and the Cairo Geniza"

Naomi Wallace, international playwright, screenwriter and poet,"Writing as Transgression:Thoughts on Teaching New Writers Not to Abide"
President David Arnold Speaks at Georgetown University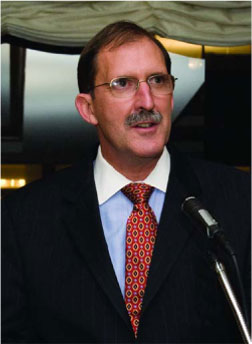 Speaking at Georgetown University in Washington, D.C. on higher education in the Middle East,AUC President David Arnold urged deeper recognition of the role of higher education in generating societal reforms in the region and welcomed the growing presence of U.S. universities in the Gulf countries.These new programs, he said, "come at the invitation of enlightened Arab leaders who recognize that higher education is the key to the future of a region where the real wealth of nations will be measured not in barrels of oil, but in the capacity of succeeding generations to meet economic and social challenges of a changing geopolitical environment."
Calling the power of education "a positive agent for social and economic progress,"Arnold said, "The central role of American universities in the Middle East [is] to educate the next generation of Arab leaders." Lasting progress, he explained, "will require more than just political leadership. It will require well-trained lawyers who understand the importance of a fair, impartial and transparent legal system; journalists who link the immediacy of new media to the values of reform-minded advocacy; teachers who return to village and urban schools to prepare the next generation; social entrepreneurs who create new institutions of civil society; engineers to build and maintain infrastructures; [and] philanthropists willing to invest in social progress."
Universities, he said, must encourage social outreach and research programs that can create new models for reform.Arnold highlighted new forms of Arab philanthropy that invest in social change and policy research focused on creating innovative projects to alleviate urban poverty. The "most essential role" of an American university in the Middle East,Arnold said, is to "serve as an educational and cultural bridge, a continuous link between the Arab world and the United States," with "ideas shared in both directions." In this role, American universities have a "very real and positive influence in shaping the region and closing … a growing divide between East and West."
While in Washington,Arnold met with officials from the State Department and the United States Agency for International Development, as well as editors and reporters at The Chronicle of Higher Education and The Atlantic Monthly. He was also interviewed by National Public Radio and on the Viewpoint program hosted by James Zogby, founder and president of the Arab American Institute.