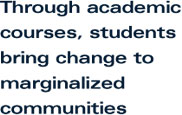 Laughing along with his peers with dark blue paint splattered on his face and hands, Mahmoud Bizzari '08, political science major, spent a spring afternoon painting beds in one of the psychiatric wards at the Abbassiya hospital as part of a psychology course. For him and many of his classmates, the experience was transforming.
"Working for the community, you find meaning for your existence; you become a good citizen," he said."This is the essence of the meaning of personal growth."
As part of an initiative to blend service activities with academic courses, the university incorporated community-based learning as part of its curriculum in 2003.The program has been implemented in various courses spanning different disciplines, from English and history to biology and political science.The courses involve students working with nongovernmental organizations (NGOs) or providing services to different segments of society, including orphans, cancer patients, refugees and marginalized groups. In the process, the students learn about challenges facing their community and the importance of taking an active stance.
Volunteering in the psychiatric ward of the Abbassiya hospital, Bizzari and his classmates viewed the unsanitary conditions there and prioritized what needed to be done.They contacted outside donors to help fund their project, choosing to remodel the bathrooms, paint the hospital beds and order 140 new medical mattresses."We were all working together for a common goal," said Bizzari."It was very different from other classes where we would compete for good grades;we built friendships."
Hala Hak, adjunct psychology professor and course instructor, noted that the journals students kept throughout the course showed that they were becoming better human beings from the inside."They learned how they can develop their inner self by helping others," she said.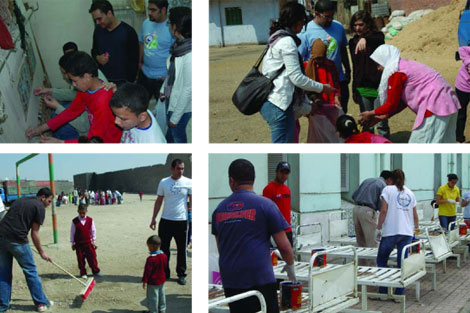 Top left: Students watch children work at a carpet weaving workshop in Establ Antar; top right: Students collect garbage with children in Establ Antar; bottom left: A student cleans up an open space to create a soccer court; bottom right: Students paint beds in one of the psychiatric wards at the Abbassiya hospital
Experiencing a different type of community service, students taking the Technical Communication and Grant Writing courses were given the chance to work in an underprivileged area in Cairo called Establ Antar.Amani Elshimi, rhetoric and composition instructor who taught both courses, believes that integrating community service into writing courses makes the latter more meaningful for students. "Community-based learning is a methodology that helps make the writing authentic, purposeful and engaging, and is ultimately useful for the community," she said.
Working with various NGOs, each class took up a different project to improve conditions in the community, utilizing the technical writing skills they learned in class. Students in the Grant Writing course came up with projects to build a community center in Establ Antar and to use children's artwork and photography to create awareness by publishing their work as stationery, wrapping paper, greeting cards, calendars and bookmarks.They then wrote grant proposals that were submitted to donors to help fund the projects. Similarly, focusing on the problem of sewage and solid waste management, students in the Technical Communication course came up with projects for dealing with these issues and also wrote proposals that were submitted to an NGO for implementation. In addition, students from both courses engaged in community clean-ups and house painting to reward women in the area who completed literacy courses.
"I have done a lot of extracurricular activities before, but I have never done development work," said electronics engineering junior Rana Alaa, who completed the Technical Communication course."This class was a great introduction on how to plan and join development programs."
Examining gender issues, students in the History and Gender course visited male and female islahiyas (juvenile penitentiaries) in Egypt to compare and contrast the difference in conditions. From their experiences at the penitentiaries and using what they learned about gender theory, students were exposed to gender differences in Egyptian society. They saw that the conditions at the female penitentiaries were more deteriorated than the males, and the girls were given less opportunity for education and skill building."This was an eye-opening course," said Soha Rashed '07. "Through this,we gained a new perspective about the society we live in and definitely learned more about the civil status in Egypt."
Also finding the course useful, Heather Graney, political science and psychology junior, noted, "Community-based learning is so much better than traditional classroom learning. It gives you a chance to apply what you learned, which in turn allows you to remember it longer. It brings you closer to the subject and closer to the world."
By Leen Jaber