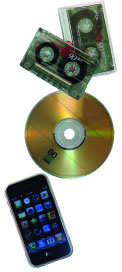 With the proliferation of digital technology, particularly the Internet, music piracy has become a global concern. Videos and songs are downloaded from the Internet without payment, friends copy CDs for one another and people use online file-sharing programs to exchange songs. In Egypt, a country that has long been at the forefront of the music industry in the Arab world, domestic piracy rates are estimated at approximately 50 percent, despite the existence of copyright laws and intellectual property rights legislation.
Nagla Rizk '83, '87, associate professor of economics at AUC, is researching viable legal alternatives to give the general public in Egypt affordable access to music without businesses losing money. Collecting data on the dynamics of the music industry in Egypt, Rizk conducted extensive interviews with musicians and others involved in the field. Her research, a work in progress, has revealed culturally sensitive models that might help reduce music piracy rates in Egypt and, at the same time, widen the public's exposure to products that may be deemed expensive.
"You want people to have access as cheaply as possible without the production companies losing money. It is a difficult balance to strike," she said.
Rizk was initially given a grant by AUC to start preliminary research on the topic, which she presented at the annual Access to Knowledge (A2K) conference in the United States, organized by Yale Law School's Information Society Project.A2K is an initiative that aims to give people access to knowledge in an affordable and legal way through different means than the current choices available.This, explained Rizk, is the backbone of her research."I am interested in the impact of technology and knowledge on human development in its wider sense," she said. Currently, Rizk is working under a grant from the MacArthur Foundation in collaboration with Yale Law School on research exploring access to knowledge and development in seven countries, including Egypt.
What makes Rizk's research unique is her examination of the music industry in Egypt from an economic standpoint. Record companies, she explained, copyright the music they produce for all artists. However, with the dawn of digital outlets and the availability of pirated music, the average citizen in Egypt has been able to get all the music he or she wants without spending more than a few Egyptian pounds, if anything at all. "Like other knowledge goods in the digital age, creating music involves a high cost of production, but hardly any cost for reproduction and distribution over digital channels," she said. This is why, she asserted, record companies and big-name labels are losing money and complaining about bootleg music and file-sharing programs online.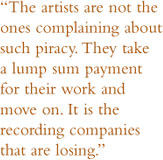 For Arab singers, however, having their songs available online for free helps spread their work and increases their popularity. "The artists are not the ones complaining about such piracy. They take a lump sum payment for their work and move on. It is the recording companies that are losing," Rizk said, explaining that for Arab artists, live performances such as concerts or wedding parties constitute the biggest share of their income. For star artists, she noted, revenue can reach up to $40,000 (LE 220,000) per wedding and an average of $1,000 (LE 5,500) for less famous singers or bands.
In addition, Egypt has what Rizk calls a strong gift culture. "With the dominance of strong social and family ties, people generally do not refuse to copy a CD for a friend or relative," Rizk explained. "In that way, copyright laws could be perceived as disruptive to social norms."
For Rizk, her main focus is not just finding alternatives, but ones that are culturally appropriate for Egyptian society. "There are new models coming out everyday," she said. "We have to look at those models and decide what is suitable for our culture ."
One of these alternatives is versioning. This is where the buyer pays a reduced price for a product that is a little different than the higher-priced item. For example, a consumer can pay less for a downloaded version of a CD, but will not receive the printed album cover with the liner notes and may get slightly lower digital quality. "This can work very well because the buyer has the choice of having just the music with or without all the fancy things that come with it," said Rizk.
Another alternative Rizk is researching is a subscription-based model, where buyers may pay a fixed, reduced price per month that will grant them access to an unlimited amount of music or CDs.Advertisement-supported models that offer free Internet music downloads are also explored by Rizk in her research.
In addition, Rizk is looking for ways to help underground artists find their way onto the formal music scene in Egypt. Creative Commons, an online nonprofit organization developed in 2001, helps artists do just that. Through specific licensing agreements, it enables copyright holders to grant some of their rights to the public, thereby expanding the range of intellectual and artistic work available online. Rizk aims to promote a similar project in the Arab world, where artists and intellectuals would make their work accessible to the public under flexible copyright terms. "There have to be reasonable intellectual property rights policies that provide an alternative to traditional models," she said, noting that some bands in Egypt have a commons that is similar to Brazil's technobrega music scene, where copying is seen as a marketing tool and not a violation of copyright laws. She added that sites like www.100copies.com would like to make free music accessible online. "In effect, there is an Arab commons initiative," she said.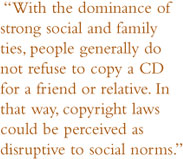 Although the bulk of Rizk's research is focused on music, she is also examining the ecosystem of the software industry to find affordable and easy ways for people in Egypt, particularly the lower-middle class, to have access to software at a reduced price. "The more access there is for the average person, the greater the potential impact of using software for upgrading human capital in Egypt," she said.
Similar to the music industry, there are alternatives that can satisfy both producers and consumers. One of these alternatives is offering propriety software at a reduced price for teachers and students. This would be a type of versioning because users would not be able to upgrade the software to a newer version, but would still be able to benefit from the program. Another alternative is the use of open-source software, which initially costs less to use but is also subject to peer collaboration in production, which allows people throughout the world to share information in the same way that Wikipedia does. "Peer collaboration," Rizk explained,"has really made a huge difference in the way people gain and contribute to knowledge and information."
Rizk's research is still a work in progress, expected to be published by September 2008. However, part of her music research was presented at the University of California, Los Angeles School of Law and will be coming out as a chapter in a book being published by Oxford University Press later this year.
Emphasizing the importance of such a project, she said,"The Internet, information technology and other communication tools have been revolutionary, and have created a fantastic platform for networking and instantaneous sharing of knowledge. It is important to find ways to make sure everyone has an equal opportunity to benefit from these media."