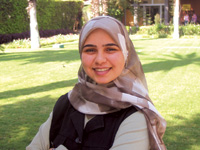 My 7-year-old son, who fell in love with AUC after attending the JuniorSummer Program last year, asked me recently about the university's move to New Cairo, saying,"How are they going to lift buildings from one place and move them to another?"With a smile, I proceeded to explain to him the notion of real estate.
While buildings will not be lifted, computers, equipment, labs and the library's more than 400,000 volumes and periodicals will. It is overwhelming to think of the logistics behind this extraordinary move and the intricate planning that has gone into deciding when and how to relocate every office and department.
More complicated than the planning phase is the actual move.While most of us are enjoying ourselves at the beach this summer,workers, planners and administrators are on their feet throughout the night to get the job done.They must be ready for any problems that arise or issues that have to be dealt with. This is not to mention the apprehension involved in ensuring that everything arrives safely and in one piece, equipment is reassembled correctly, labs are set up properly, classrooms and offices are furnished, and –– most importantly –– the campus is up and running by September. No wonder that Mohamed Abdel Gawad, senior adviser for campus transition, says he is losing sleep over this (See "A Moving Experience," p. 8).
For those of us who work at AUC, the move is on everybody's minds. Questions and concerns keep popping up about transportation, parking permits, office equipment, food services –– the list goes on. It's exciting to move away from the hustle and bustle of downtown to a bigger campus with fabulous facilities, but, at this stage, people have a lot of questions to ask, even about the smallest of details. It's exactly like moving to a new home and worrying about everything, from the daily commute to how the place will look. At AUC, however, the place looks extremely promising.
Having visited the new campus recently, I couldn't help but wonder how my life as a student would have been different if I had studied there. I believe today's students and future generations are very fortunate to have such a marvelous campus at their disposal.Year after year, the New Cairo campus will begin to hold special memories for them just as the downtown campus has for alumni of the past 90 years.
We look forward to having you all visit the new campus throughout the coming year. Have a relaxing summer and see you in New Cairo.
Dalia Al Nimr
We welcome all letters. Submissions may be edited for space and clarity. Please send all correspondence to:
auctoday@aucegypt.edu
or
Editor, AUCToday, Office of Communications and Marketing
113 Kasr El Aini Street, P.O. Box 2511, Cairo 11511.