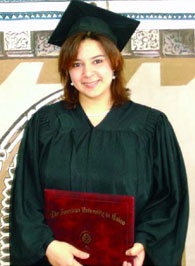 AUC was my lucky card. As a school student, I was not happy with my teachers or the type of education I was receiving, but in college, the situation was different. Thanks to my loving mother who is a staff member at AUC, I was granted the privilege of joining the university under the staff scholarship. It was an amazing opportunity that I feel no one should miss.
AUC is not just a good university to attend; it is a transforming experience that shapes your personality and thought. It makes you the person you are. At AUC, you are bound to make choices all the time, whether choice of major, courses, career routes, friends or a simple choice of joining a club that gives you joy with every mission successfully accomplished. It is daunting to look back at those days and think to myself, "What if I did not have such a chance? What would have become of me?"
As a freshman, you enter the university expecting so much, and guess what? You get all that you expected: the good education, good professors, and obviously, good future. It is a choice that parents think so much about, but in the end, they always seem to know that it is the best they can do for their children.
My years at AUC were full of excitement. Joining the English and comparative literature department was a dream come true, but joining the philosophy department was simply a blast. I was in love with the subject, professors, books –– everything. It was an addiction that studying literature simply complemented. One could just say that literature was my pen, and philosophy was the active mind behind the pen.
When my undergraduate years came to an end, I did not know if I should be happy for successfully finishing two of the most enjoyable majors with high honors, or upset that the journey came to an end so fast. I felt like my four years were weeks, even a few days!
Luckily, the joy of graduation and the love you receive from family and friends are overwhelming, but after everything is over, you start trying to answer the biggest question of all:"What next?" In my case, I knew that my addiction to literature and philosophy would carry on, so I traveled to the United Kingdom to earn a master's in literature and philosophy from the University of East Anglia, Norwich. In a glimpse, I was there on my own, in a new campus, leading a new life. If AUC had not made me the person I am and given me enough knowledge to be confident and take such a huge step in my life, I would have still been home wondering what was next. AUC made it all happen.
In grad school, I stood out among my classmates, who were much older than me at times. Some of them had studied for only two years for their undergraduate major, choosing a focused set of courses. At AUC, I spent a little over four years exploring various subjects to complement my two majors.This has shown so much in my graduate classes and made me different from the others. Professors have acknowledged more than once after my presentations or papers that I have a wide range of knowledge, thanks to AUC of course.
In addition, because the literature and philosophy departments at AUC are full of students from different countries, I found myself adapting to and understanding various cultures easily. In my graduation ceremony, we were a bunch of international students: Palestinians, Americans, Indians and others. This enhanced my communication skills and ability to express myself, and it helped me make friends with people who do not share my ideas, beliefs or culture.
If only I had known that AUC would have such a great impact on me, I would have shaken hands with everyone I met, kissed all and said a million thanks for everything that was done. It is a sense of appreciation that I will always feel no matter how fast time passes.AUC has prepared me, not just for my master's, but for life. As I live in the United Kingdom now, I have encountered a different culture and way of life that I would have been scared of before.AUC gave me the courage to go far.
Shereen Hamed Shaw '06 is a lecturer at Coleg Menai in North Wales and is preparing for a doctorate in literature and philosophy from the University of East Anglia, Norwich.